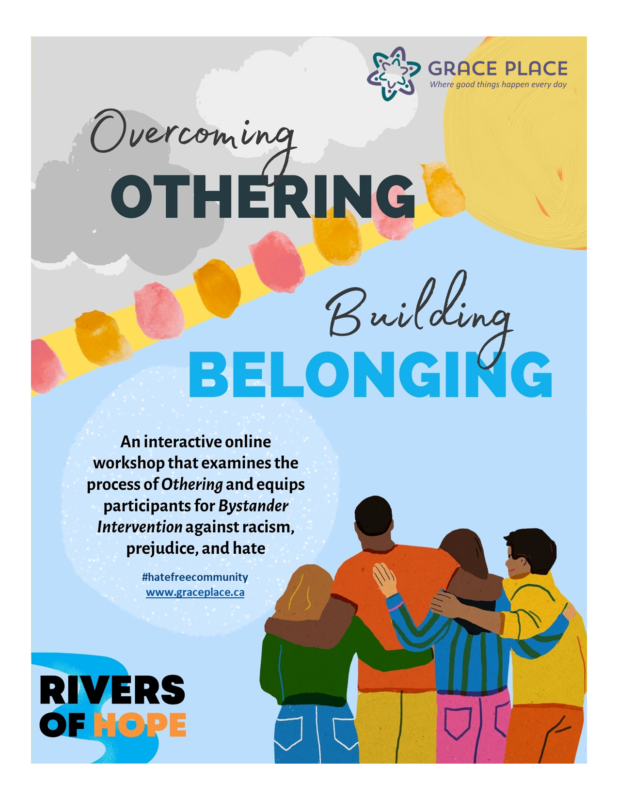 Free Online Workshop: Overcoming Othering, Building Belonging – Friday, January 28, 2022 at 4:00 p.m.
Grace Place is glad to announce the next session, the first in the New Year, in its Safer Communities Project learning series. This workshop is being presented by Rivers of Hope—a unique organization that uses the expressive power of the arts to educate on racism, prejudice, and hate, thereby building hate-free communities. See session details below.
Workshop Goals
a. Unpacking "Othering":
We explore how groups of people are marked as "Other" and targeted for racism, prejudice, and hate. We dig deep into two examples of Othering—anti-Asian and anti-Muslim hate.
b. Understanding the Bystander Effect:
We explore how the bystander effect can impact whether or not people offer help if they witness someone being targeted for racism, prejudice, or hate.
c. How we can use Bystander Intervention:
We share the 5 Ds of bystander intervention and use theatre activities to practice bystander intervention, while emphasizing safety, choice, and de-escalation.
Click here to register: https://forms.gle/xATx7xNoXTTi9NRK6
or visit www.graceplace.ca