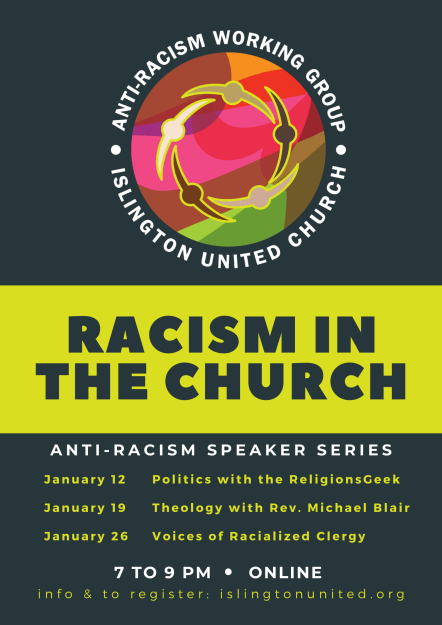 The Islington United Church Anti-Racism Working Group is pleased to present a speaker series on Racism in the Church, designed to educate ourselves and help us take action on racism within our church, the community, and the wider Canadian context. All events will take place from 7:00 to 9:00 pm on Zoom. After each presentation, speakers will participate in a Q&A session with the audience.
January 12 – Politics with the ReligionsGeek
Brian Carwana (the "ReligionsGeek") is the Director of Encounter World Religions. He loves teaching about religions and ethno-religious diversity, and what they mean in our workplaces, schools and societies.
January 19 – Theology with Rev. Michael Blair
Born in Jamaica, Rev. Michael Blair came to Canada as a young adult with his family. Ordained in the Convention Baptist Church and admitted to the United Church's order of ministry in 2010, he currently serves as the General Secretary of The United Church of Canada.
January 26 – Voices of Racialized Clergy
Join us for a panel discussion exploring pathways to becoming an anti-racist church.
• Rev. Maya Douglas, Lead Minister, St. James United Church in Etobicoke
• Rev. Sydney Elias, Lead Minister, Trinity United Church in Kitchener
• Rev. Irene Ty, Minister, Westminster United Church in Mississauga
Please register on our website at https://islingtonunited.org/racism-in-the-church-anti-racism-speaker-series/ to receive the link. All are welcome! Why not invite a friend?