An Invitation
"Welcome to Shining Waters. Shining Waters has been a region for a short time, less than 3 months. We invite you to the first meeting of Shining Waters Regional Council which will be held at Georgian College in Barrie, May 24-26."

–Invitation from our co-chairs, Marg Walker and David Leyton-Brown. 
The weekend will be an opportunity to make some new connections, to renew friendships, to learn about and engage in conversation about clusters and networks and to think about where you can fit in as an individual and as a community of faith to make a difference in our world, and to accomplish more together than we each can separately.
David Leyton-Brown & Marg Walker
Agenda
Theme: Creating Connections
Being intentional about engaging in conversation is a key to living into our call in the new governance model of The United Church of Canada to create opportunities for clusters and networks to emerge through the grassroots of our church. At this first Regional Council Meeting  the agenda is being designed to ensure plenty of time for conversation and connecting. We will hear stories of clusters that are beginning to develop and networks that are forming. We will dream of what is possible, about what we can do together that we can't do alone.  But we will do more than dream. We will have opportunity to connect and concretely explore possibilities. We will follow the energy and people's passions to see how we might work together to expand our impact on the communities and world around us.
There will be time for people to gather around topics of interest and with other communities of faith who your community might connect with to support each other, deepen relationships, share resources… There is a place on the registration form for you to identify the focus of a topic about which you want to be sure to have a conversation. Suggestions might include things like rural or suburban churches, truth and reconciliation, youth, communities of faith worshiping outside of church buildings. What do you long to talk about?
Our theme of "CREATING CONNECTIONS" makes this a great year to think of sending participants to this gathering along with your elected members of the Regional Council. Participants will be included in table groups so that they are engaging in these significant conversations about clusters and networks and connecting. When it comes to motions before the Council only elected members will vote.
Leadership Opportunities
Join the Choir. Are you interested in singing in the choir at the Celebration of Ministries Service?  Please indicate this on the registration form and let us know what you are – Soprano, Alto, Tenor or Bass 
Read in Worship. Are you able to read in worship in a language other than English. Please identify your language. Please indicate on registration form.
Strengthen Hospitality. Gather at 10:00 a.m. on Friday to develop a group to focus on hospitality awareness and good practices for conversations for the meeting. If you are interested please contact Karen Hilfman Millson  or Jean Ward directly.
Ministry Check In
Dale Hildebrand and Todd McDonald invite ministry personnel to a conversation about the health joy and excellence of ministers in the Shining Waters Regional Council. We will meet at 11 a.m. to 12 noon on Friday, May 24. Please Email Todd to let us know that you are coming. .
Orientation for First Time Attendees
Although this is the first regional meeting, many people will have attended meetings of conference in previous years. If this is your first time attending this type of meeting there will be a ZOOM (video conferencing) call set up for orientation. Watch for more information.
Preliminary Outline of the Agenda
Thursday, May 23
Youth program begins
Friday, May 24
11:00 a.m. Registration opens
1:30 p.m. Meeting begins with a Sacred Fire Ceremony
Opening Motions
Worship and Connecting
Celebrating Ordinands and Admittands
Introduction of Governance Model and identify questions
Glimpses of Emerging Clusters and Networks
Worship
Gathering Opportunities
Saturday, May 25
Sunrise Service
Worship
Business – answering governance questions, introduction of budget, plan of action for Affirm, other proposals
Conversation – Clusters/Networks/Connecting
Conversation – Potential Clustering Possibilities
3:30 p.m. Celebration of Ministries Service 
Gathering Opportunities
Sunday, May 26
Sunrise Service
Hymn Sing and Worship
Business – motions on proposals discussed throughout weekend
Celebrating Retirees and Jubilands
Worship of Covenanting
Closing of Sacred Fire
12:30 Lunch
Pre-meeting Discussion on Governance
Watch for opportunities to gather on Zoom (a great new video conferencing tool we are using more and more to save travel time and environmental impact) to have questions answered and discuss the new governance model being presented to the Regional Council.
Youth Program
The Youth at Regional Meeting will be engaging in conversation and action around growing our faith through community and connection.  For more information, please contact Jeffrey Dale, Youth Ministries Coordinator, or 647.382.6824.
See the Youth Program page for registration and more information. 
Logistics
Location
The meeting will be held at the Athletics Centre at Georgian College, in Barrie. One Georgian College, Barrie, ON L4M 3X9 Public transportation is available via GO Transit, intercity and city buses. Georgian College website. Barrie Campus map
Accessibility
Our meeting rooms on the Georgian campus have barrier free access and accessible elevators and washrooms are nearby.  All stages and speaking areas are barrier-free. Please indicate any requirements for wheelchair accessible accommodation, handicapped parking, hearing assist, sign language, large print, dietary needs, or other considerations on the registration form.  
Children's Program
A children's program will be offered this year. The cost is $60 per child. Please indicate on your registration form the number of children and their ages who you are considering bringing. Information will be sent directly to those who plan to have their children be part of the program. Plans are still evolving so watch for more information.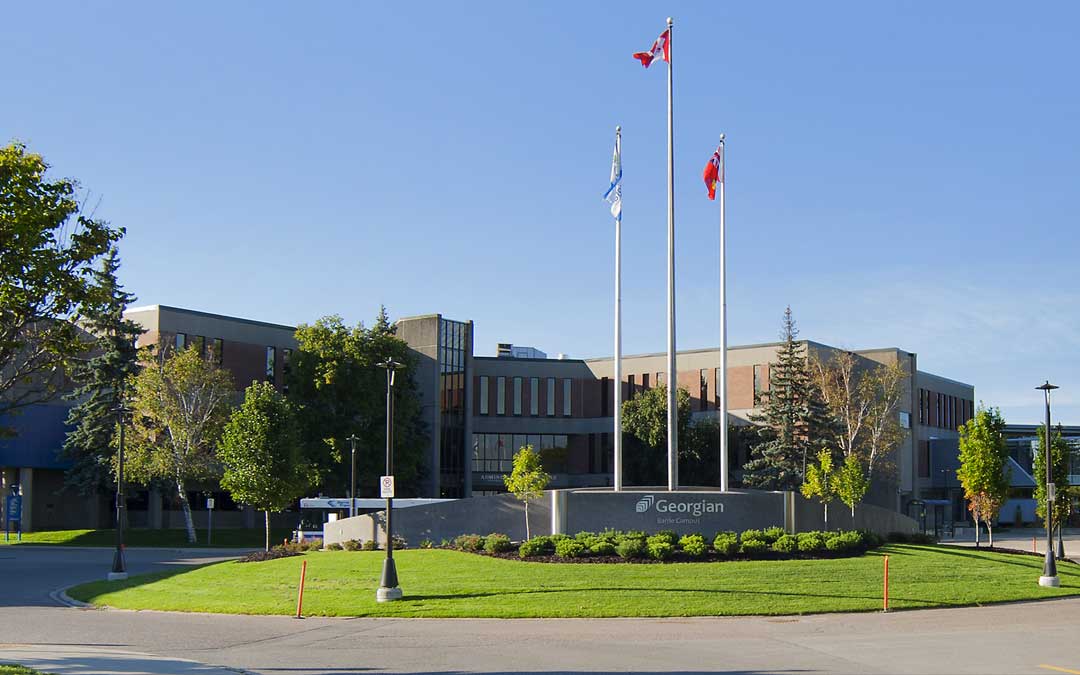 Parking
If you stay in residence your parking is free. Be sure to tell us in the accessibility section of the registration form if you need a handicapped parking spot as we may need to reserve more. The commuter parking rate is $7.00/day. 
Accommodation and Meals
ACCOMMODATION: One of the gifts of being on a campus is that we have the opportunity to all stay in the residence to provide us with more time to make connections and get to know each other. Each residence suite at Georgian has two bedrooms (double bed in each bedroom), a kitchenette and washroom.  We have the option to choose a suite mate if we wish, otherwise we can wait and be surprised.  The double accommodation price is for one person per bedroom, two people per suite. If you wish to share a bedroom contact Janet MacDonald.
MEALS: Meals are being served at Georgian in "The Last Class", located in the Athletics Centre. If you purchase meals and have special meal needs (vegetarian, gluten free, vegan,  dairy free or have food allergies) please indicate on the registration form.
COSTS FOR ACCOMMODATION AND MEALS:
Your community of faith is responsible for helping to fund the cost of sending members to the meetings of the regional council (from The United Church Manual B.2.1.5 Participation in Regional and Denominational Life).
MEALS AND ACCOMMODATION
 Packages
Earlybird
By April 1st
Regular
By April 30th
1. All Meals (included in fee) and Single accommodation (one person per suite)
$285
$310
2.  All Meals (included in fee) and Double  accommodation (two persons per  suite)
$200
$215
3. Meals Only (all meals, including breakfast
$110
$125
4. Meals Only (lunch and supper)
$80
$90
5. Friday supper
$23
$25
6. Saturday lunch
$17
$18
7. Saturday supper
$23
$25
8. Sunday lunch
$17
$18
Registration Deadlines
    Early Bird:  Deadline for early bird dates is April 1, 2019.
    Meals and Accommodation:  The last date to register for meals and accommodation is April 30, 2019.    
Mail In Registration Form