TAKE ACTION
Ask the Ontario Government
to Legislate Paid Sick Days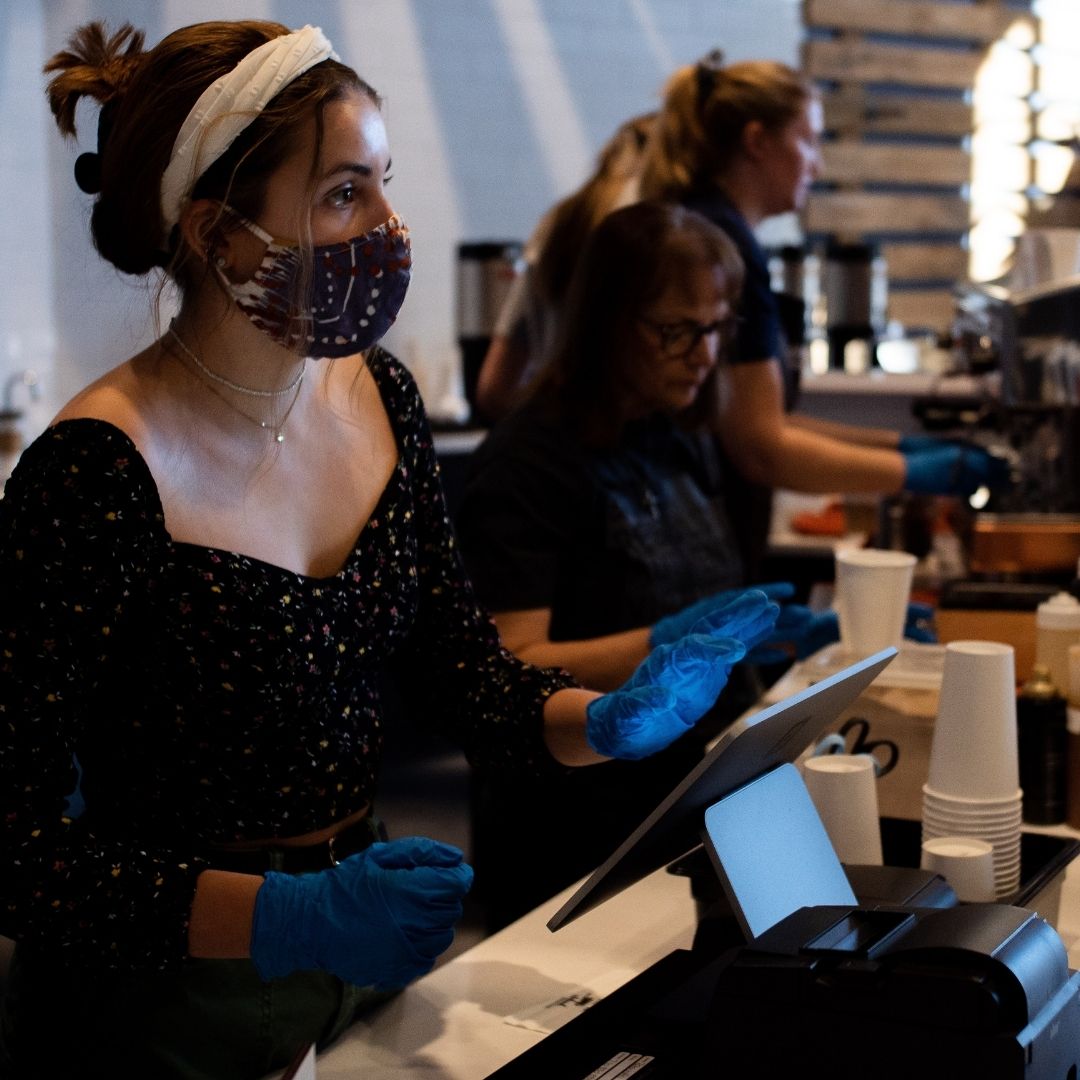 APRIL 30, 2021 UPDATE:  THANK YOU to everybody who has already sent a letter in support of Paid Sick Days for Ontario workers.
The Ontario Government has recently announced they will be implementing three days of paid sick leave for each Ontario Worker.  While this is a step in the right direction, it does no go far enough to alleviate the concerns of many health experts.
Below, please find a revised letter that you are able to customize and send to the Ontario Government, asking for an improvement on their proposal for three days of temporary paid sick leave.
Despite evidence and advice from physicians and epidemiologists, as well as the overwhelming calls from constituents across the province, the Ontario Government has failed to institute sick pay for Ontario workers. Many of these employees have been working in essential jobs throughout the COVID-19 pandemic — jobs that often necessitate being onsite, among colleagues and/or the general public.  Although those who exhibit symptoms of COVID-19 are asked to remain home and self-isolate, many cannot afford the loss of wages and so return to work, potentially infecting co-workers and the general public.
As adherents and members of the United Church of Canada, we come from a tradition where loving God is inextricably tied to loving our neighbour. There are countless examples in sacred scripture of Jesus and the prophets needing time to rest and heal so that they might be well enough to carry on with the work at hand. In this case, loving our neighbour means providing for the time needed to rest and recover, so that our communities may remain safe from growing numbers of infection.
Read the letter sent to Premier Ford from Shining Waters Regional Council here.
Read an email from Rev. Susan Eagle, chair of the Social & Ecological Justice Commission, here. 
Send a Letter to Premier Doug Ford
What can I do now?
Send your letter to your local MPP.  You should have received a copy to your email address.  You can find the contact information for your local MPP here.
If possible, mail a paper copy of your letter to the Premier and your local MPP.

  We hear time and time again from politicians that paper letters are still important.

Speak to people within your community of faith about the importance of Paid Sick Days.  Invite them here to submit their own letter!
Share the Legislate Paid Sick Days NOW campaign to your social media.  You can use the links provided at the bottom of the petition box, or share the following graphics: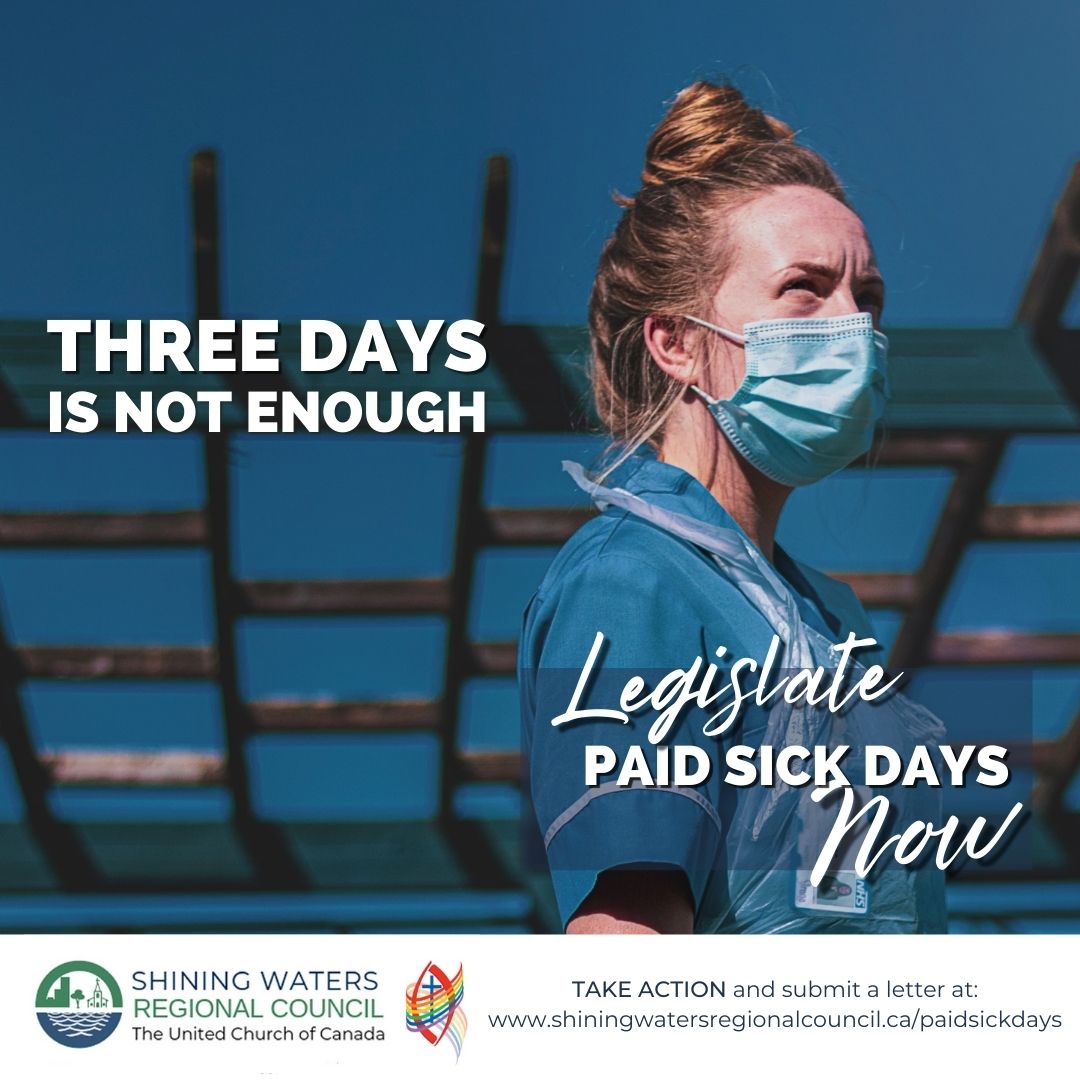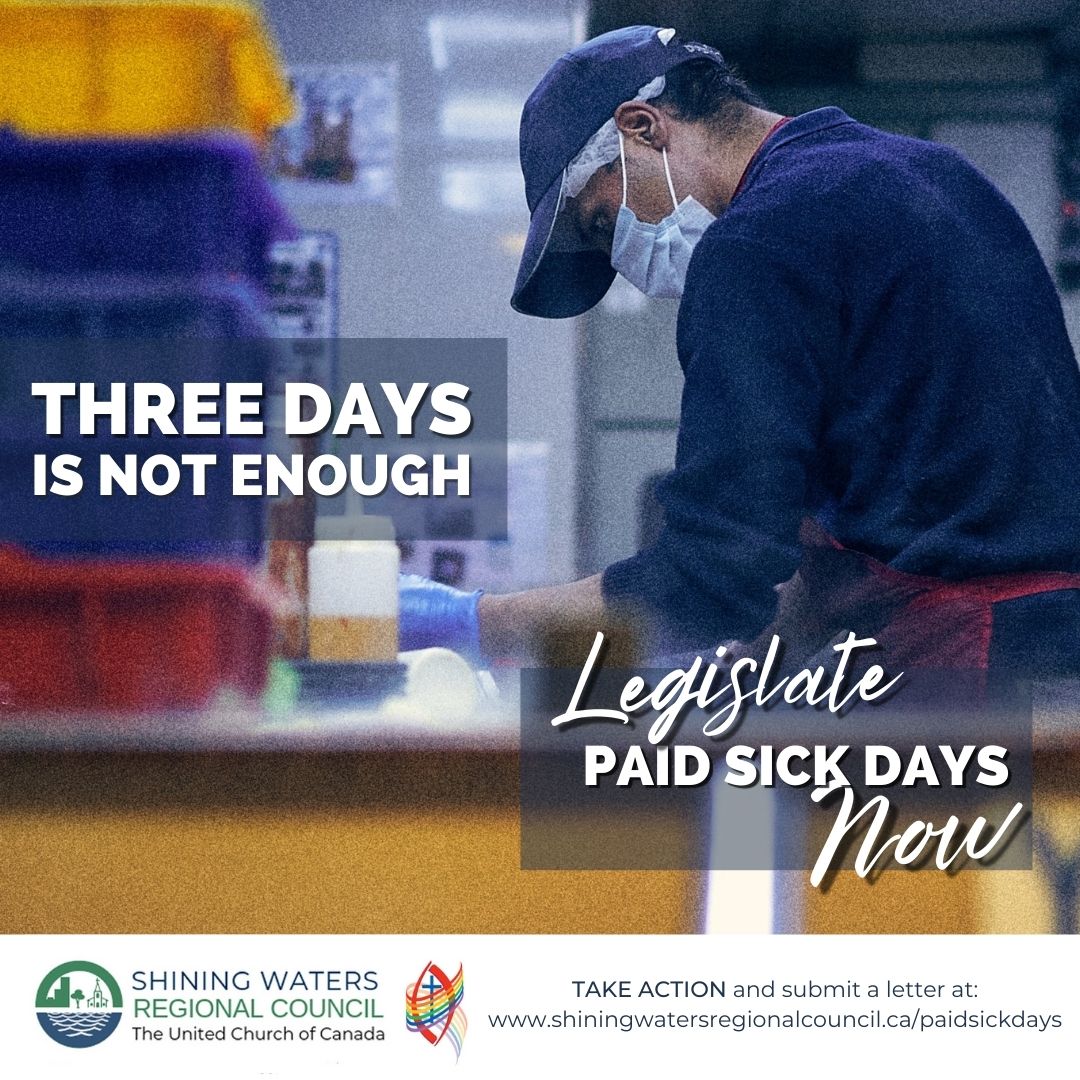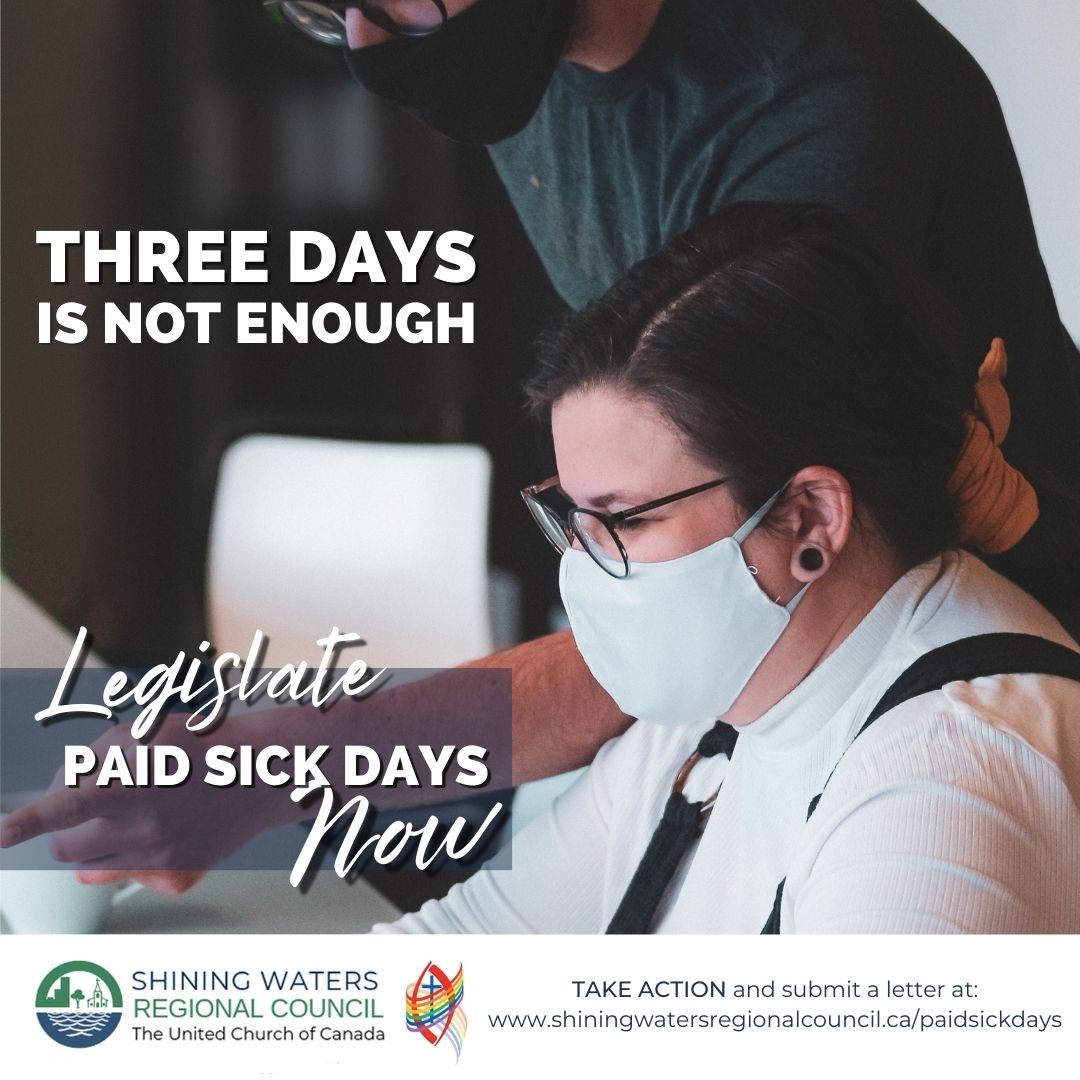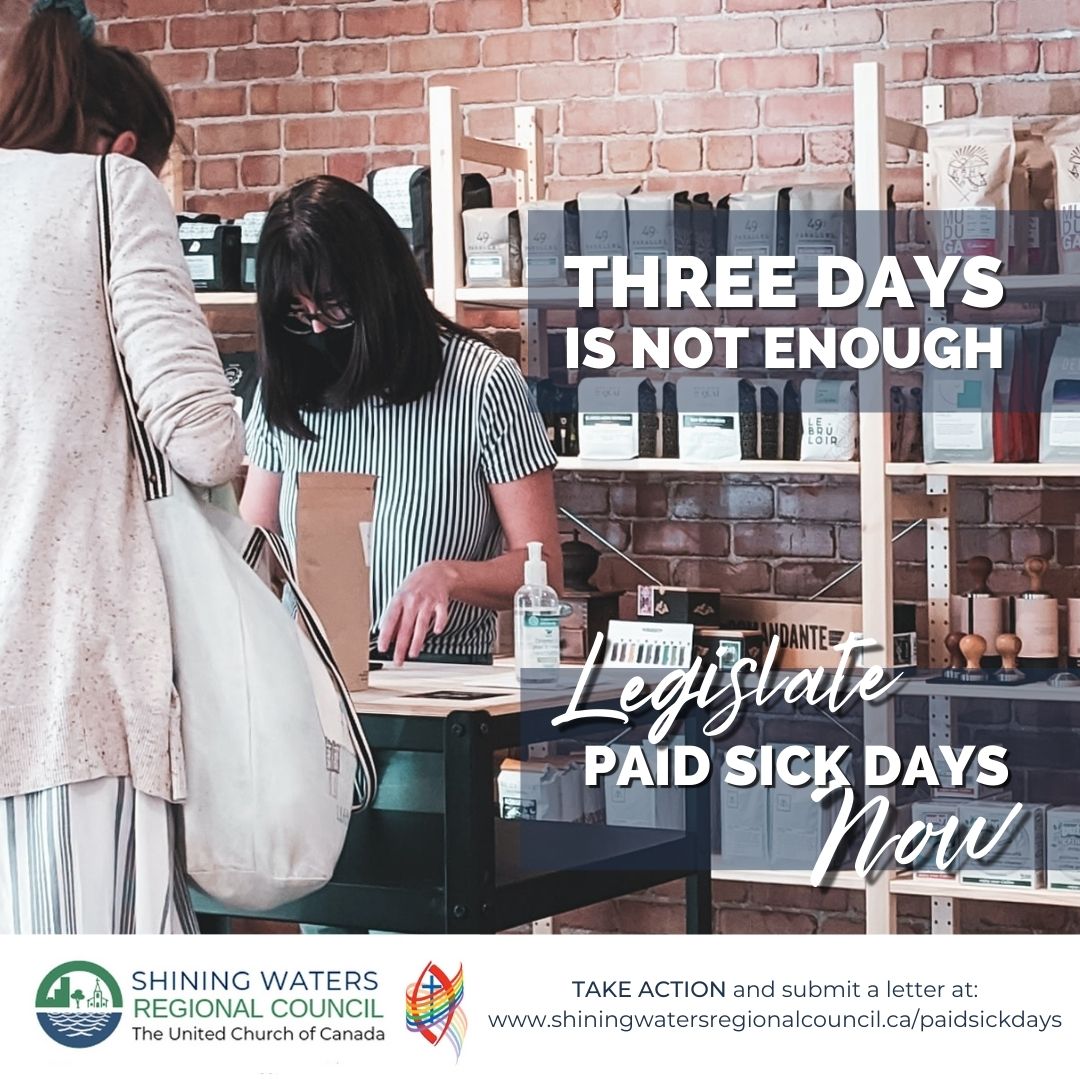 Be sure to use some hashtags! Suggestions: #swrc #uccan #paidsickdays #paidsickleave
Also, tag Premier Doug Ford, Minister Monte McNaughton, and other MPPs.
Doug Ford, MPP, Premier of Ontario
Instagram: @fordnationdougford
Facebook: @fordnation
Twitter: @fordnation
Monte McNaughton, MPP, Minister of Labour, Training and Skills Development
Instagram: @montemcnaughton
Facebook: @montemcnaughtonMPP
Twitter: @montemcnaughton
Ontario Progressive Conservative Party
Facebook: @OntarioPC
Twitter: @OntarioPCParty
Andrea Horwath, MPP, Leader of the Opposition
Instagram: @AndresHorwathNDP
Facebook: @AndreaHorwathONDP
Twitter: @AndreaHorwath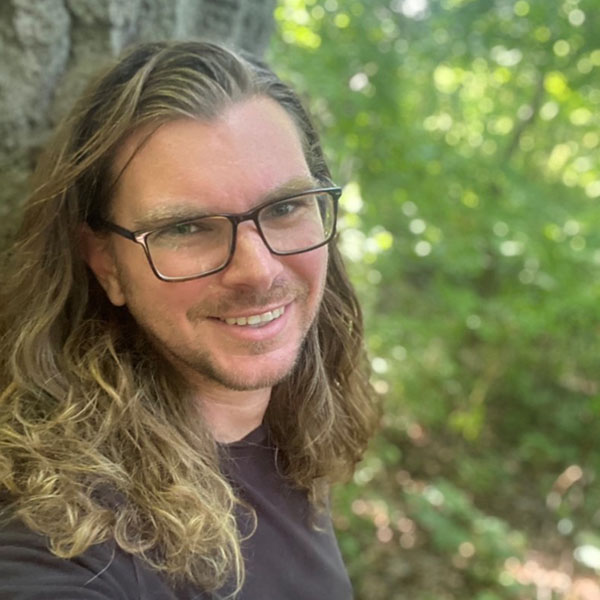 JEFFREY DALE
Minister, Justice and Faith Formation
Phone: 416-231-7680  |  1-800-268-3781
Extension: 6773
Email: jdale@united-church.ca 
Serves in: Shining Waters Regional Council and Canadian Shield Regional Council
Location: Teleworks and works in the Guthrie office
Role: Jeffrey encourages and connects communities of faith with matters of faith and justice and the regional council in youth and young adult ministry and matters of faith formation and liaises with the General Council in this regard.
Contact Jeffrey about: Affirming Ministry; Camping Ministries; Faith Formation; Guaranteed Income; Harm Reduction; Homelessness; Poverty; Social and Eco-justice; Worship and Music; Youth and Young Adult Ministry, United Church Women (UCW)
Aren't there already sick days in Ontario?
Currently, every Ontario worker who has been employed for two weeks is entitled to three unpaid sick days per year .
Why do Ontarians need paid sick days?
Many workers choose to continue working when they have symptoms of COVID-19, or other illnesses, and will not even get themselves tested. These workers cannot afford to give up any of their income and fear losing their jobs — despite labour laws that currently exist.
This is especially true for precarious and underpaid workers in some manufacturing sectors and in retail, as well as for many essential health-care workers, notably personal support workers in long-term care.
What about the federal Canadian Recovery Sickness Benefit?
While the federal government has implemented the Canadian Recovery Sickness Benefit, it is not available to all Ontario workers. An employee must have missed more than half a week of work in order to qualify.  In addition, the time between application and dispersal of funds can be upwards of six to eight weeks.  Ontarians need assurance that their wages will continue without disruption when they are ill and need to stay home.
Will legislated paid sick days harm small businesses?
"Paying people to stay home when they're sick is crucial to public health and a safe workplace," said Jessica Carpinone, owner of Bread By Us, a bakery and café in Ottawa that's offered paid sick days since opening seven years ago.
Carpinone joined fellow business owners at an online news conference on Wednesday, providing accounts of how providing paid sick leave is good for businesses, employees and communities. The business owners are members of the Better Way Alliance, an organization that describes itself as a growing movement of businesses that support decent wages, paid sick days and fair scheduling laws.
The group urged the government to pass Bill 239, the Stay Home If You Are Sick Act, a private member's bill that has passed first reading.
Source: https://www.cbc.ca/news/canada/toronto/business-owners-paid-sick-leave-ontario-government-better-way-alliance-1.5907723