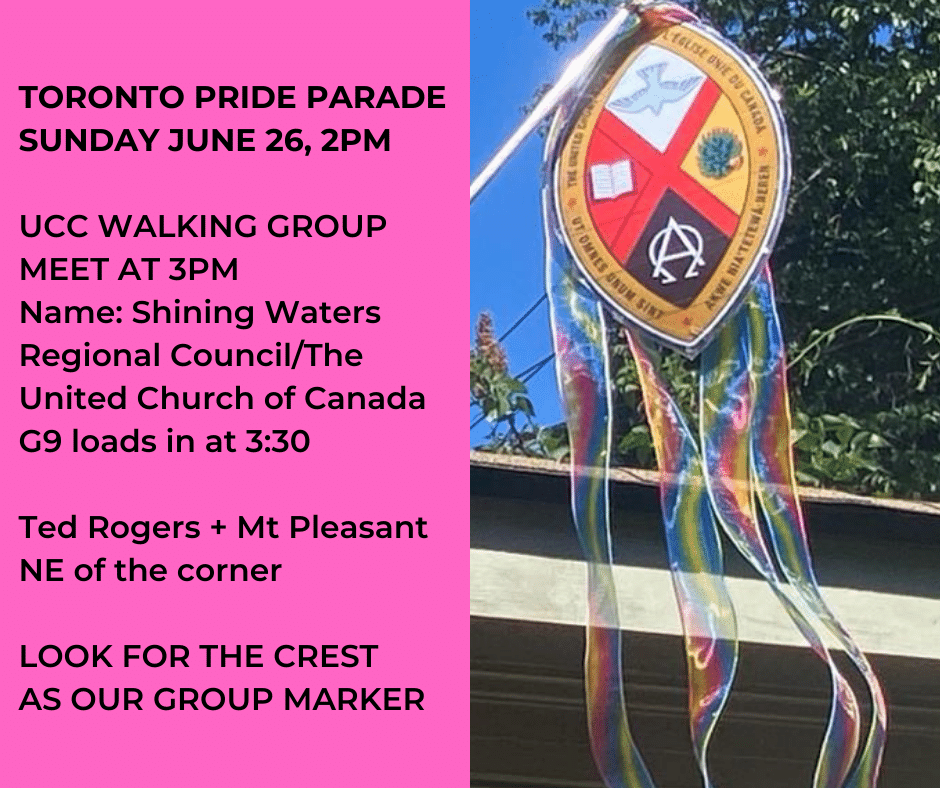 TRANS MARCH FRIDAY JUNE 24, 7:00 PM (MARCH AT 8PM)
Trans March Website
UCC PARTICIPANTS
Come and join the journey. Walk with the Trans community or cheer them on from the sidelines. UCC friends are welcome to gather at Gloucester and Church, south east corner between 7PM and 7:50 and then walk up to join the march that starts at 8PM. The Trans March Route starts at Charles and Church, heads north on Church then west along Bloor St, south on Yonge and east along Carlton, ending at Allen Gardens.
Contact: Julian Munroe(they/them) will coordinate the UCC group.
DYKE MARCH SATURDAY JUNE 25, 2PM
Dyke March Website
UCC PARTICIPANTS
Rather than a coordinated UCC presence here in this march we invite folks to join in wherever they choose. If you want to join with others, share your location in the WhatsApp group (link below). Starting at Charles and Church the march will head north on Church, west along Bloor, south on Yonge, and then east along Carlton ending at Allen Gardens.
PRIDE PARADE SUNDAY JUNE 26, 2PM
Pride Parade Website
UCC PARTICIPANTS
Please note: THERE IS NO VEHICLE THIS YEAR, WE WILL HAVE A WALKING GROUP ONLY.
Contingent Name: Shining Waters Regional Council/The United Church of Canada
Parade Placement: G9
• 2:00 Official parade start
• 3:00 United Church marchers meeting spot on the east side of Ted Rogers Way just north of Mt. Pleasant (across the street from 28 Ted Rogers Way). Sherbourne is the nearest subway. Look for the UCC Crest and hopefully our big rainbow flag will be up on the fence.
• 3:30 United Church marchers check in at Pride Toronto tent at Ted Rogers Way and Charles street and proceed into the queue for the parade.
• End time is approximately 6PM
After the parade marchers are welcome to gather at Metropolitan United Church, 56 Queen Street East. to share some refreshments and return signs and take a little breath together before either going back into the fray or heading home.
Parade Route:
Starting at Bloor and Church St., the parade will head west then turn south on Yonge St ending at Yonge Dundas Square. De-staging will take place on Dundas Street to Victoria Street. Folks are invited to continue to walk south on Victoria Street, east on Shuter and over to Bond street where we will gather for refreshments at Metropolitan United for a brief time.
Banners and Signs:
We have a MEGA pride flag (10×20 feet) that we hope folks will be happy to help process along the route on Sunday. Please also bring your Shining Waters Regional pride flags to add to our group identity. And it's also lovely to see individual communities of faith identified in the walk so bring your own banner if you have one.
What to Bring:
Please arrive prepared for a long, crowded day. Do bring your own water, snacks, sunscreen and a hat. Some folks like to have an umbrella for the sun. We celebrate the Green Initiative from Pride Toronto that is reducing the carbon footprint of Pride. The big change is the removal of gas vehicles from the parade, but there are also things we can do like avoiding single use plastics.
Accessibility:
The festival weekend will be an extremely large crowd, which is always a bit complicated to navigate. High numbers of folks coming together can result in limited space to move around. The density of the crowd may also be overwhelming at times, especially in these COVID times. There can be a considerable amount of time spent waiting, without shade or seating. Once you begin the parade, it can be difficult to exit given the barricades along the route. The walk itself has typically been about 90 minutes. As a group we can cooperate to support whoever shows up to the best of our ability, however many of the barriers are beyond our control. On Sunday we will have two staff and one student available as well who can facilitate accompaniment.
The Accessibility Services Hub is a part of the Pride Toronto program and is available to help navigate less crowded routes and also provides a charging station for mobile devices. The Hub is located near the Church and Wellesley intersection. They can also assist people in locating the accessibility viewing areas. There are larger portable washrooms across the site but they do not have automatic doors and require manual locks.
COVID:
Social distancing will be difficult. Pride Toronto does not require masks. We encourage our folks to bring and wear masks in any indoor locations, and outdoors at your discretion. We will also have some available.
COMMUNICATION
2022 UCC Pride Toronto Whatsapp Group
This group is created for United Church of Canada participants in the Pride Toronto festivities from June 25-27, including the Trans March on Friday, the Dyke March on Saturday and the Pride Parade on Sunday. Group admins are Susie Henderson and Jeffrey Dale. The group will be deleted on July 4th.
Join the group
Pride Hashtags
Share your pride photos and messages using our United Church hashtags on all your social media. (Hint, if you create an auto text entry on your phone it's easier to add a bunch of hashtags without re-typing.)
#CreatedinGodsImageSWRC  #UCCan  #UCCanPRIDE  #UNITEDCHURCHPRIDE #DeepBoldDaring