Ministers share their learnings on how to be community during the coronavirus crisis
COVID-19 is quickly wreaking havoc not only on our individual lives but also on the lives of our faith communities. Many ministers are wondering how to nurture a community of faith—which people need now more than ever in these anxious times—in an online context. As digital discipleship becomes the new normal, how can ministers create a virtual worship space for people used to coming together in flesh as well as spirit?
Bri-anne Swan is the primary liturgist for the Resistance Church project, an online worship community where gatherings are tailored to a digital format. She offers a few helpful takeaways from her experience to guide ministry personnel and lay leaders struggling to quickly transition to an online format. The first is to keep it basic if you are new to meeting as a virtual church.
"We get caught up in 'What's the tech that I need to make this the best that it can be?'" she says. "Now that more people are putting stuff online, we are able to see what all the other ministers are doing, so there's this pressure. We want it to be really polished."
Swan adds that the message still matters more than the medium—by a lot. "It doesn't matter how great the tech is if the content doesn't touch people's hearts," she claims. "If it's worship, then it needs to be worshipful first—before it needs to be beautiful."
That's not to say that the technology doesn't matter at all, however.  "There's a balance between getting the tech stable enough that it's not distracting—so people are still able to focus on their worship experience," she adds. "It would be better to have something lower tech, but know it really well so it won't fail, than have something complicated and professional but then it take away from what you're able to offer your community because you're so worried about the tech."
It's a matter of keeping in mind both your own comfort level as minister and the comfort level of your congregants. "It's really community-specific," insists Swan.
This was the Rev. Cindy Randall's insight too. Randall is the minister at Humbervale United Church in Toronto, which has an older demographic. "I have an elderly congregation—people in their 70s, 80s, and 90s," she explains. "No children, no families—it's strictly seniors. If they have anything, they have email. Some have computers, and others none at all."
Randall also recognizes her own limitations in the digital universe. "I'm not overly techy," she admits.
With this in mind, she has decided to send out weekly worship materials via email. "I felt if I did something each Sunday—a prayer, the readings, a reflection—that would be something for at least some of the folks," she says.
Randall also appreciates—and uses—the fundamentals. "The phone is still useful for pastoral care," she notes, adding that her congregants "are quite delighted to know I'm thinking of them."
It's also important not to worry too much if the quality isn't where you'd like it to be. The Rev. Christine Smaller, minister at College Street United Church in Toronto, shares that the congregation has been livestreaming on Facebook for a few years. "The quality of the stream is not good," she admits.
But Smaller is light-hearted about it. No one in the congregation, she says, is very concerned. In fact, the quality has not prevented people from feeling engaged and grateful for this option. "There are shut-ins who really feel connected to the worship services," she explains. "They stream it, so there are comments. It is not a church that has a lot of money, equipment, or tech savvy, but there is already something to build from."
Smaller agrees with the message of keeping worship and pastoral care accessible and meaningful for people—and not getting caught up in fancy technology or equipment. "I was on a Zoom call with mostly American ministers from the mid-West," she shares. "They are in rural areas where there is no way they can connect online. So some of them are mailing stuff out. They are encouraging each person to phone another person and read through the materials." She acknowledges that in this context, the simple act of reaching out is far more helpful than any high-tech media strategy.
Social media can also provide spiritual nurture in these stressful times. "I'm putting things up on our Facebook site: prayers, information, light-hearted stuff," Smaller relates. "I am going to record a 60- or 90-second video of me. There's something about seeing someone's face talking to you that is important if you can do it."
Like Smaller, Lee-Ann Ahlstrom, minister at Northlea United in Toronto, is trying to leverage various tools at her disposal. "We have to be conscious of what the limitations are and not put all our eggs in one basket," Ahlstrom reflects. "Trying to offer some other options and platforms is probably sensible if we have the capability."
With the help of confident and capable volunteers, Northlea United was able to livestream worship as soon as COVID-19 hit. Ahlstrom's learning: shorter is better. "There was some question about whether we do the full service or cut," she recalls. "In retrospect, we realized that it didn't need to be so long."
She also acknowledges that the minister is only one person whose focus needs to be worship and pastoral care—not tech support. Behind every virtual church is a strong volunteer team.
Congregations with high-end technology are also often eager to care for congregations with none. That's the case with St. Paul's United Church in Midland, Ont. Now that it's invested roughly $115,000 in upgrades—four state-of-the-art cameras and sound systems geared to both livestreaming and the sanctuary—it's hoping to help those wanting to enhance their digital experience.
"The long-range goal for us was to reach out to smaller congregations to help them stay open, or churches without a minister," says the Rev. Karen Ptolemy-Stam. "Then we would link directly with them. Our camera systems would be taken out as outside units and we would operate it from our location."
She cautions congregations that are new to livestreaming to heed copyright law.  As the outbreak unfolds, One License is providing two gratis license options, valid until April 15, 2020, for streaming music online. "If you're livestreaming for the first time, and you're playing music that isn't copyrighted, you can get shot down," Ptolemy-Stam warns.
But she and her team resist the suggestion that they're experts. They insist on going into any tech situation with humility and humour.
"When you start with technology," jokes Ptolemy-Stam, "Murphy moves in." Then she shares her running joke with the congregation: "Sometimes I doubt the existence of God, but I sure don't doubt the existence of Murphy." Her advice: relax and remember to breathe.
And take comfort in knowing that the current situation is temporary. "We will be in a room together again and have the intimate experience of greeting each other with hugs and handshakes," Ahlstrom anticipates. Online worship is a wonderful option, but no digital tool or platform can replicate the experience of coming together as a faith community in both flesh and spirit.
---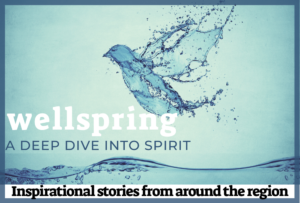 WELLSPRING: A DEEP DIVE INTO SPIRIT is a regular blog from Shining Waters Regional Council, The United Church of Canada, sharing stories of inspiration, revitalization, and innovation from around our region. If you have a story idea please share it with Susie Henderson.