Shining Waters Regional Council is an Affirming Ministry
Virtual Pride Gathering June 24, 2021, 7PM
Join with friends across the region for a Pride Celebration in advance of the Toronto Pride weekend. Communities of Faith have prepared short video pieces to exchange greetings and lift up our commitment to be public, intentional and affirming in our ministry.
Join Zoom Meeting
https://united-church.zoom.us/j/96531401671
Meeting ID: 965 3140 1671
International Day Against Homophobia, Transphobia and Biphobia
A Prayer for May 17 International Day Against Homophobia, Transphobia and Biphobia!
You are welcome to use this prayer in worship and social media to mark the International Day Against Homophobia, Transphobia and Biphobia. The day was created in 2004 to draw attention to the violence and discrimination experienced by lesbian, gay, bisexuals, transgender, intersex people, and all other people with diverse sexual orientations, gender identities or expressions, and sex characteristics.  The date of May 17th was specifically chosen to commemorate the World Health Organization's decision in 1990 to declassify homosexuality as a mental disorder. More on the May 17 website. 
Regional Affirming Celebration
Thanks!
Thanks to everyone who contributed to our regional Affirming Ministry Celebration on March 14, 2021.  You can watch the Livestream on YouTube here.   Request your community of faith's blessed rainbow flag below.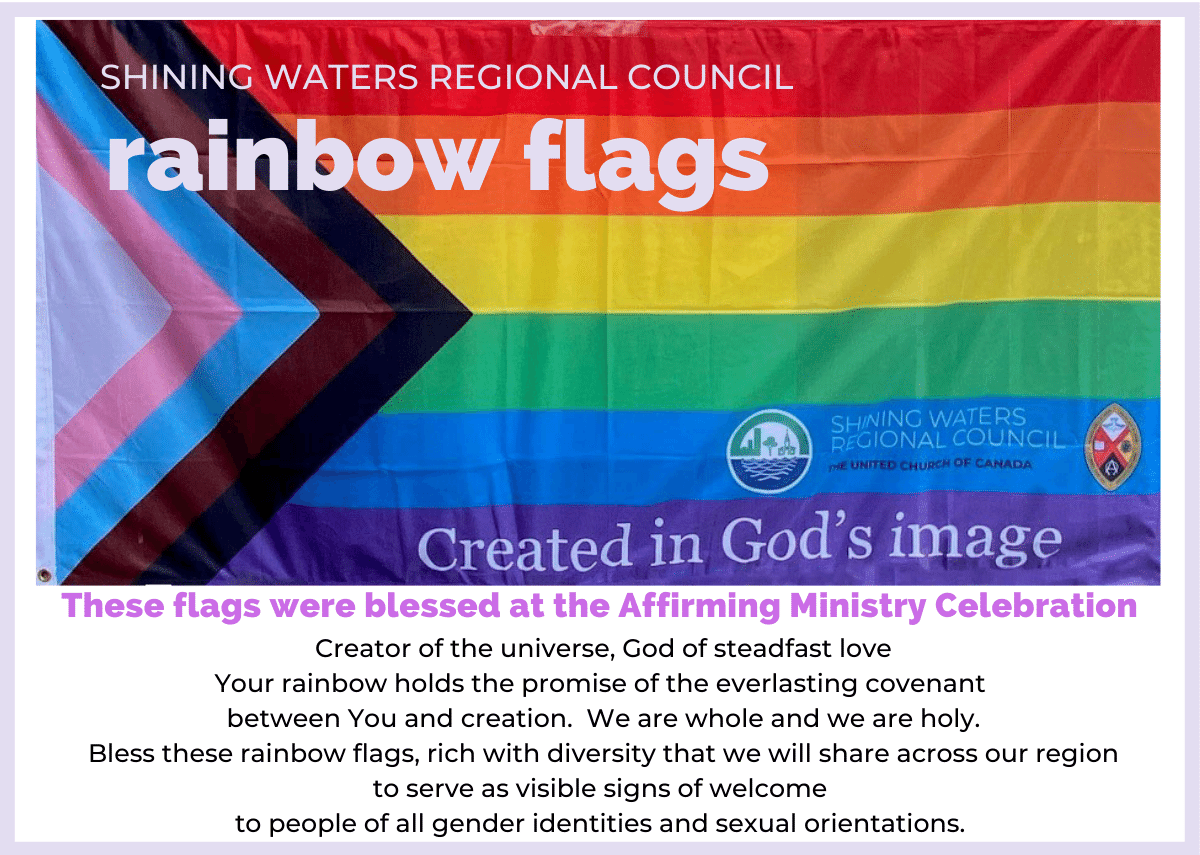 Affirming Prayer for Shining Waters Region
This prayer, written by Rev. Lauren Hodgson and Rev. Sarah Chapman was offered during our celebration.  The video is accompanied by Moon Joyce with her song, We Are Whole and We are Holy.  (The song is in the public domain so please use it with credit to the songwriter.) Here is a PowerPoint version of the Affirming Prayer for the Region (no sound) if you would like to adapt it for your community of faith.
Affirming Communities
AFFIRM UNITED OPEN HEARTS DOCUMENT  By Alyson C. Huntly, in conjunction with the Affirming Ministries Program Coordinators. This is a resource for and about Affirming Ministries, includes information and resources on the affirming process as well as ideas to help congregations continue to grow. Includes a very full listing of additional resources. [PDF| 95 pages | 2017]AFFIRMING MINISTRY REQUIREMENTS From Affirm United/S'affirmer Ensemble describes the components required in the affirming process. [2016]
Calendar Moments
NOVEMBER 20 TRANSGENDER DAY OF REMEMBRANCE Resources for worship and action from The United Church of Canada and other communities of faith
LGBTQI2S Inclusion
FREQUENTLY ASKED QUESTIONS ABOUT SPONSORING AN LGBTIQ2+ REFUGEE  Questions about LGBTIQ2+ Refugee Sponsorship For United Church of Canada Communities of Faith [PDF | Nov. 2018 | 2 pages]
GENDER NEUTRAL BATHROOMS A variety of resources from the Unitarian Universalists on making washrooms safe spaces, including suggestions for signage.
LGBT RESOURCES PAGE on The United Church of Christ website, our partner denomination in the United States.
OUR WHOLE LIVES  A curriculum of life span sexuality education programs from the Unitarian Universalists.
QUEER THEOLOGY An on-line network including resources, podcasts and opportunites for engagement hosted by Brian G. Murphy and Fr. Shannon TL Kearns.
Trans Experience and Gender Diversity
CELEBRATING GENDER DIVERSITY: A toolkit on Gender Identity and Trans Experiences for Communities of Faith
A resource to help communities of faith explore gender identity and deepen their understanding of gender and the integral role it plays in creating welcoming and affirming communities. Includes plans to create a gender-inclusive washroom policy, workshop modules, handouts and a glossary of key terms and concepts. Download this PDF.  [PDF | 87 pages | 2019]  Link to United in Learning webinar on animating this resource.
CREATING AUTHENTIC SPACES: A Gender Identity and Gender Expression Toolkit
From the 519 Community Centre in Toronto, a  part of their efforts to challenge transphobia and to foster environments that are inclusive of gender identity and gender expression. The kit includes a set of infographics that can be downloaded on pronouns, allies, creating a welcoming environment and more. Download the kit.
TRANS AND GENDER IDENTITY RESOURCES CHART
A listing compiled by The United Church of Canada. [PDF | 12 pages]
RUTH'S STORY
Ruth Wood talks about her life journey as a trans person and her theological reflection on love and acceptance [YouTube Video | 6:44 |  2012]
Doctrine and Policy
MOVING TOWARD FULL INCLUSION: Sexual Orientation and Gender Identity in The United Church of Canada A detailed resource that documents the church's history intended to enable dialogue with partners and promote respectful sharing. [PDF | 67 pages | 2014]
MARRIAGE: A United Church of Canada Understanding A comprehensive overview of the United Church position on marriage, including same-sex marriage.  Highlights changes in the church position over the years and the current theological understanding of what our church believes about marriage. [PDF | 12 pages | 2005]
THE AUTHORITY AND INTERPRETATION OF SCRIPTURE  Theology and Faith Committee, The General Council of The United Church of Canada [PDF | 49 pages | 1992]  Results of a church-wide study on the authority of scripture.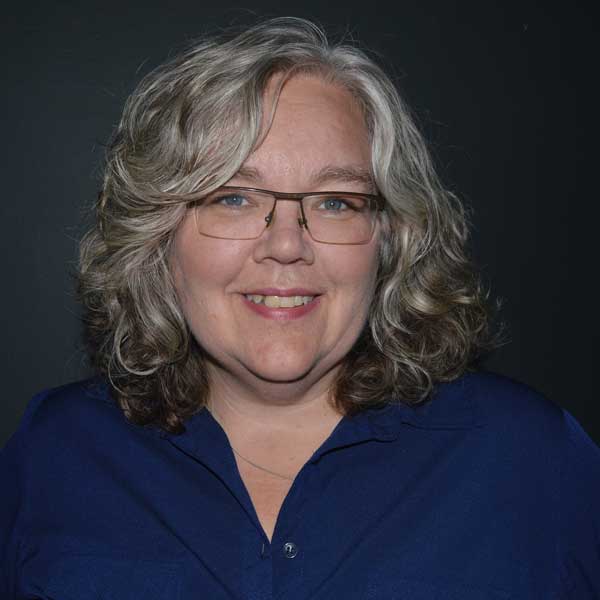 SUSIE HENDERSON
Communities of Faith Minister for Equity and Innovation
Phone: 416-231-7680  |  1-800-268-3781
Extension: 6262
Email: shenderson@united-church.ca 
Serves in: Shining Waters Regional Council
Location: Teleworks from home in Toronto
Role: Susie supports the regional council in planning and policy for equity and innovation and encourages and connects communities of faith as they adapt and experiment in changing times.
Contact Susie about: Affirming Ministry; Community of Faith Mapping Project; Equity Committee; Innovative Ministry; Wellspring Blog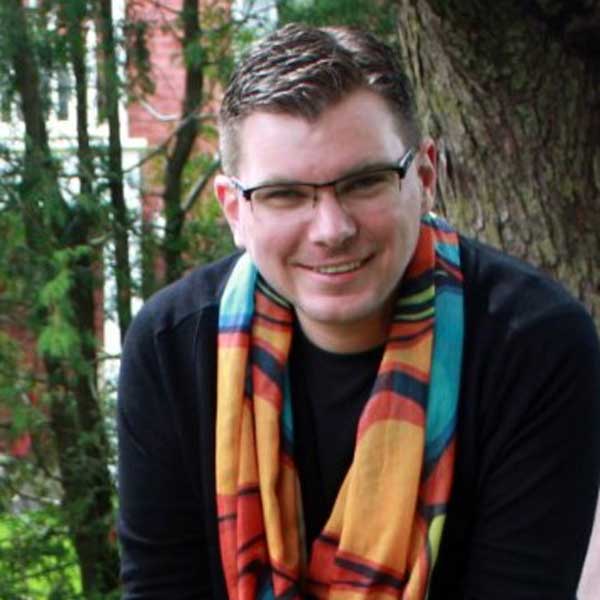 JEFFREY DALE
Minister, Justice and Faith Formation
Phone: 416-231-7680  |  1-800-268-3781
Extension: 6773
Email: jdale@united-church.ca 
Serves in: Shining Waters Regional Council
Location: Teleworks and works in the Guthrie office
Role: Jeffrey encourages and connects communities of faith with matters of faith and justice and the regional council in youth and young adult ministry and matters of faith formation and liaises with the General Council in this regard. 
Contact Jeffrey about: Affirming Ministry; Camping Ministries; Faith Formation; Guaranteed Income; Harm Reduction; Homelessness; Poverty; Social and Eco-justice; Worship and Music; Youth and Young Adult Ministry, United Church Women (UCW)
Map of Affirming Communities