Discussion: Kent Monkman's Miss Chief and Other Tricksters
March 14 @ 7:00 pm

-

8:30 pm

Free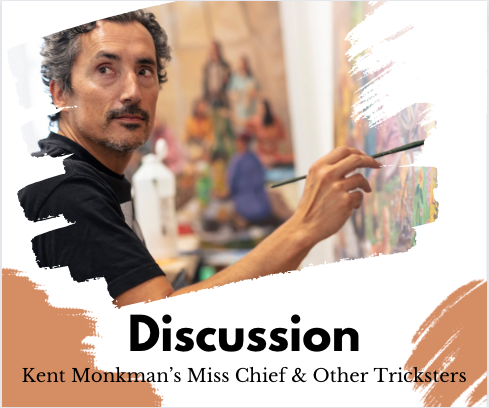 Spend some time at Kent Monkman's Being Legendary at the Royal Ontario Museum this winter, getting to know the stories of Miss Chief and Turtle Island (For tickets, see: https://www.rom.on.ca/en/exhibitions-galleries/exhibitions/kent-monkman-being-legendary). Encounter more Tricksters in Tomson Highway's 2022 Massey Lectures, Eden Robinson's Trickster Trilogy, Karen McBride's Crow Winter, or other works of art or literature. Then, let's talk about it on March 14 at 7pm! Discussion will take place at St. Matthew's United Church at 729 St. Clair Ave West, Toronto.
1. From Monkman's website https://www.kentmonkman.com/
Kent Monkman (b. 1965) is an interdisciplinary Cree visual artist. A member of Fisher River Cree Nation in Treaty 5 Territory (Manitoba), he lives and works in Dish With One Spoon Territory (Toronto, Canada). Known for his thought-provoking interventions into Western European and American art history, Monkman explores themes of colonization, sexuality, loss, and resilience—the complexities of historic and contemporary Indigenous experiences—across painting, film/video, performance, and installation. Monkman's gender-fluid alter ego Miss Chief Eagle Testickle often appears in his work as a time-traveling, shape-shifting, supernatural being who reverses the colonial gaze to challenge received notions of history and Indigenous peoples.
Monkman's painting and installation works have been exhibited at institutions such as The Metropolitan Museum of Art; Musee des Beaux-Arts de Montreal; Musee d'artcontemporain de Montreal; The National Gallery of Canada; Crystal Bridges Museumof American Art; Hayward Gallery; Witte de With Centre for Contemporary Art; Musee d'art Contemporain de Rochechouart; Maison Rouge; Philbrook Museum of Art; and Palais de Tokyo. He has created site-specific performances at The Metropolitan Museum of Art; The Royal Ontario Museum; Compton Verney, Warwickshire; and The Denver Art Museum. Monkman has had two nationally touring solo exhibitions, Shame and Prejudice: A Story of Resilience (2017-2020), and The Triumph of Mischief (2007-2010).
Monkman's short film and video works, collaboratively made with Gisele Gordon, have screened at festivals such as the Berlinale (2007, 2008) and the Toronto International Film Festival (2007, 2015). Monkman is the recipient of the Ontario Premier's Award for Excellence in the Arts (2017), an honorary doctorate degree from OCAD University (2017), the Indspire Award (2014), and the Hnatyshyn Foundation Visual Arts Award (2014).
2. Current ROM exhibition: Kent Monkman: Being Legendary. On now until March 19, 2023
(From ROM Website): Interpreted by Monkman's shape-shifting, time-travelling, gender-fluid alter ego, the legendary being Miss Chief Eagle Testickle, the exhibition depicts how deeply Indigenous knowledge is embedded in the lands of Turtle Island. Cree and other Indigenous peoples have carried this knowledge in stories, songs, and artworks since time immemorial. Through the power of storytelling, Miss Chief Eagle Testickle reframes the forced interruptions of the colonial project on Turtle Island and honours leaders in the community who shine a light forward for future generations.
https://www.rom.on.ca/en/exhibitions-galleries/exhibitions/kent-monkman-being-legendary
Related Events