Charles Dickens' "A Christmas Carol"
December 3 @ 7:00 pm
$15.00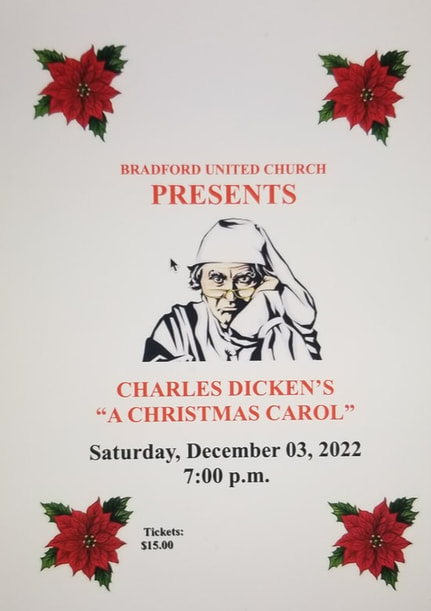 Originally written in 1843, "A Christmas Carol", the story of Ebenezer Scrooge, is a popular and timeless story of transformation and love set in Victorian England. This production is delivered in period costume by experienced "readers" who have been successfully delivering this message for over 20 years. This was originally co-produced with the CBC and presented throughout Simcoe County and York Region.
Written in five staves" or chapters, the individual readers have an opportunity to deliver this ghostly tale with humour, wit, and their own personal touch. The Principal Readers are two veterans of this production, Pastor Robert Murdock and Laurie Lang, Past President of the Literacy Council of Simcoe County. They will be supplemented by local participants who have an opportunity to "let their creative juices flow". This performance is not recommended for children under 10 years of age.
This production will take place on Saturday, December 3rd, 2022 at 7 pm, and will take approximately 2 hours with an Intermission midway and a chance to sample some Christmas Goodies. We will finish the evening with a rousing chorus of two or three well-known Carols to put us in the festive mood for this holy season.
COME JOIN THE FUN AND BRING A DONATION FOR THE FOOD BANK.
For tickets, call/email: 905-775-7268 or bradforduc@gmail.com Tickets are $15.00/person.
Venue: Bradford United Church, 66 Barrie Street, Bradford, Ontario L3Z 2A7
Related Events