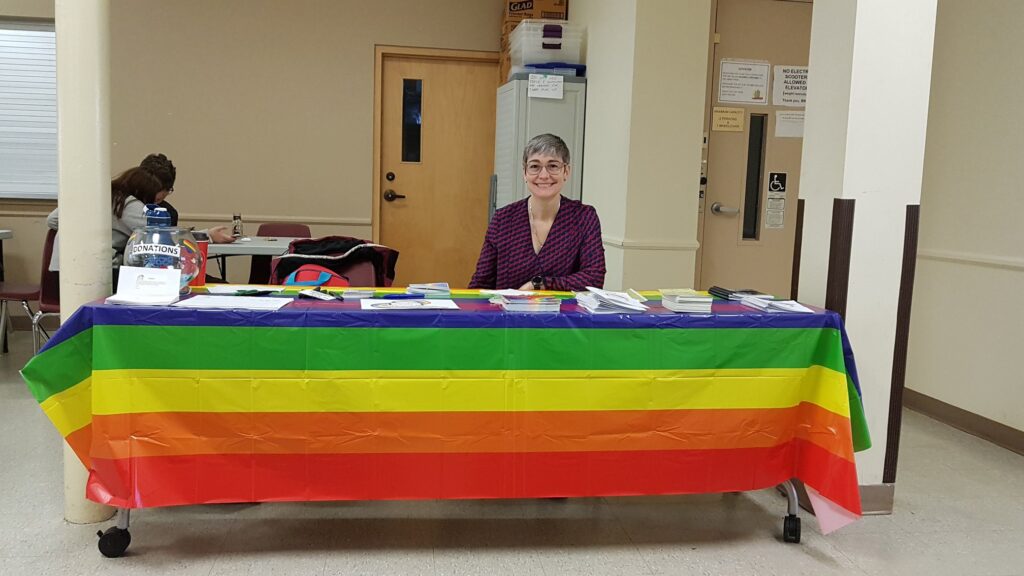 Friends become family at Dorothy's Place
By Susie Henderson based on an interview with Rev. Carmen Llanos
Dorothy's Place is a ministry of Birchcliff Bluffs United Church serving 2SLGBTQ+ seniors in east end Toronto and Scarborough. Based on the success of Toby's Place that responded to a gap in services for youth; the vision of Dorothy's Place emerged out of a need for services to seniors in Scarborough beyond the services downtown. Participants are welcomed with nourishing food and educational programing that is designed to meet their needs. But according to Program Coordinator Rev. Carmen Llanos, more than the program, Dorothy's Place is all about the people and the multitude of ways that they care for each one another.
But who, you may ask, is Dorothy? The name Dorothy's Place is a bit of an antiquated term, an old code, used over the years in many public settings to signal a meeting place for people of diverse sexual orientations and gender identities without making a direct reference. So you might hear an announcement of where 'friends of Dorothy' plan to meet, or even an inquiry as to who is a 'friend of Dorothy' in a crowd. Most agree that the term references the Oz stories in the L. Frank Baum books and the icon status of Judy Garland in the gay community. It's a fun reference, but there is also an edge to it, as it is derived from a context of a community forced underground when open gatherings were either illegal and/or dangerous. Homosexuality was criminal in Canada until 1969 and Human Rights legislation continues to be challenged and changed to reflect justice for diverse sexual orientations and gender identities.
Many of those who gather at Dorothy's Place come with lived experience of the burden of  homophobic history, including experiences of trauma, time in prison and many accounts of violence and harassment. They come with stories of estrangement from family members and discrimination in their personal and professional lives, including in their faith communities. According to Llanos, "We have people who have gone through a lot. They've been discriminated against, beaten up, put in jail — so it's very hard to be open. Still they open up and find hope in others." The name Dorothy's Place echoes all of this history and honours the resilience of a community who knows how to survive and thrive — with flair.
Although there are many factors that shape a person's story, age is most certainly one of them and seniors in the 2SLGBTQ+ community have a distinct set of needs and experiences. Given decades of discrimination, 2SLGBTQ+ older adults face heightened risks of social isolation as their experience of the world may lead them to take less risks of being open about their identities. Stigma and discrimination are not only realities of the past. There are older adults who continue not to be out to their family or immediate communities.  Even though there is considerably more openness in society today, the issue of invisibility within health and social services networks is real and has a direct impact on health and wellness. One factor here that Llanos recognizes as being important is her own lived experience in the 2SLGBTQ+ community. Her ministry at Dorothy's Place begins with a base of common ground.
Dorothy's Place programming invites the support of allies and includes opportunities to engage with lawyers, health services and places like Service Ontario. Finding resources and making connections in an environment like Dorothy's Place is more than convenient for participants, for some it will be their reliably sourced community directory. Monday lunch usually draws 25-30 people where they share a meal around one table, trading places and ensuring that everyone is included. The community welcomes a wide diversity of folks and people of faith, or no faith.  The social occasions and special events that Llanos describes portray a vibrant connection that exists for people where they acknowledge birthdays and they celebrate the holidays together throughout the year. For example on "Noon Years Eve" they gather with a hearty toast to the new year — at lunchtime.
Loneliness and social isolation are now named as pubic health issues in Ontario in general.  More specifically, in this community 2SLGBTQ+ older adults are more than twice as likely to live alone. However many have created strong communities to replace the family, or support they may have lost, and this is where Dorothy's Place really shines.  According to Llanos, many describe Dorothy's Place as chosen family and participants do actively reach out and care for one another. People come forward to help with food and to clean up and more importantly, they come through for each other.  They offer each other rides. They listen to each other's wins and losses and maybe most significantly, they miss each other. When someone returns from being away, they are met with "welcome back, we missed you". This kind of showing up is far too rare for far too many folks.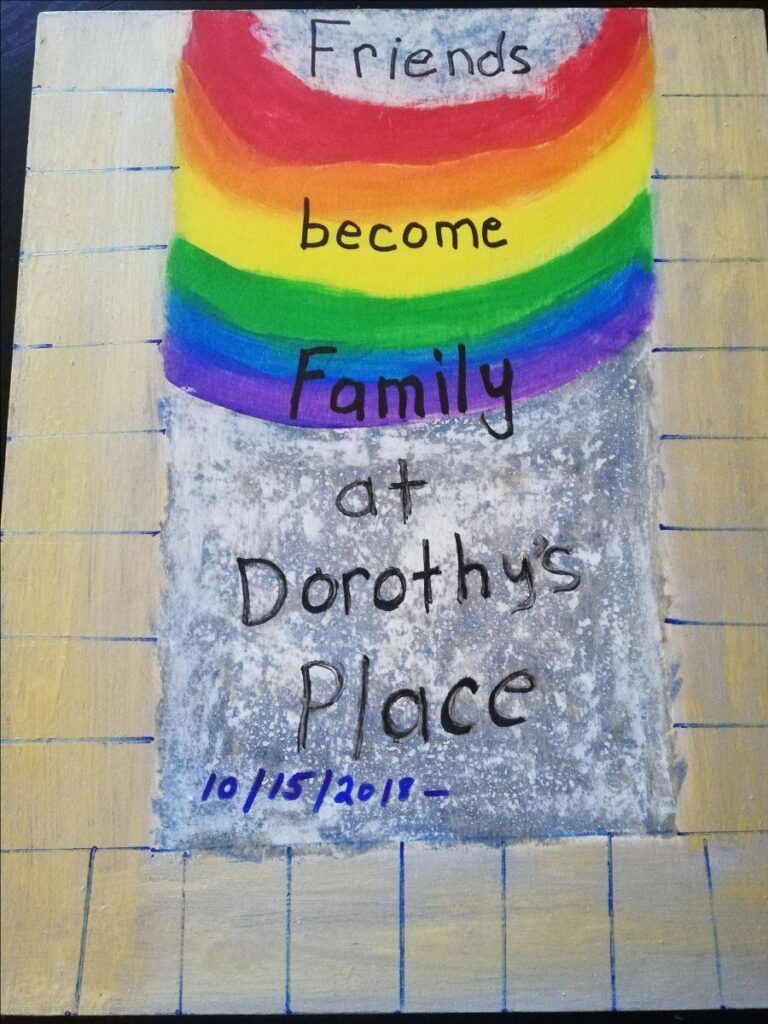 In the end, showing up for each other really shows. One participant shared with Llanos that when she looked at her own photos as a participant on the group Facebook page she was struck to see herself "smiling from her heart" –a smile that she hadn't really seen since since she was a child.
The wider community has also taken notice of Dorothy's Place. They have been the recipient of the Inspire Awards, "Inspiring Community Organization of the Year, in 2020/2021. This year Pride Toronto will also pay tribute to both Dorothy's and Toby's Place ministries at Birchcliff Bluffs United Church.
Susie: "What is it that you think the community sees here, when they are looking at Dorothy's Place?"
Carmen: "Hope, they see hope. Hope that there are things to look forward to, people who care about you, that there is a place to belong. Dorothy's Place is not only the basement of a church, it is a group of people committed to make the world a better place."
Links for More Information 
Loneliness and Social Isolation are Public Health Issues, Tamarack Institute, 2019 
Connected Communities: Healthier Together, Ontario Ministry of Health 2017
Queer Events recap of legislative changes and challenges 
---