By Julie McGonegal
Newly Affirming congregations spread the message of justice and inclusion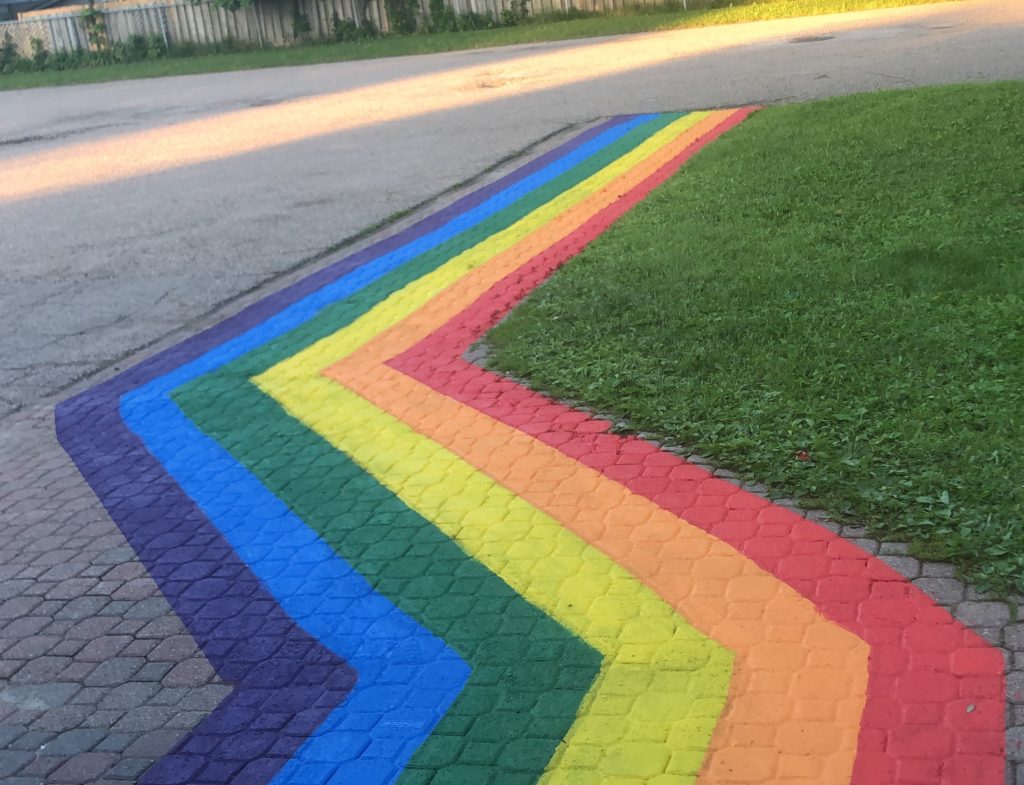 This past summer, Grace United Church in Barrie was bedecked with a splendid rainbow walkway—a vibrant profusion of colour on its pavement that made both public and explicit its allyship with the LGBTQ+ community. It took seven people—all youth and parents—and a whopping 14 litres of paint to accomplish the feat. "By putting this symbol on the ground in a permanent way, we were making our commitment as an Affirming congregation big and visible," explains Jeffrey Dale, Grace United's former youth minister coordinator who is now full-time staff with Shining Waters Regional Ministry.
Despite the long-held view—tragically borne out in reality—that churches are hostile to LGBTQ+ people, Grace United is one of many churches in the area that have recently become, or are in the process of becoming, an Affirming ministry. Affirming ministries are United Church congregations, regional councils, camps, and more that make a public, intentional, and explicit commitment to justice and inclusion around issues of gender identity and sexual orientation. Newly Affirming congregations across Shining Waters region are clear in this commitment. All are engaged in working toward the healing of creation and challenging bias and discrimination wherever they occur, in accordance with the stated aims of Affirm United/S'affirmer Ensemble, an independent justice-oriented organization that helps communities of faith navigate the Affirming Ministries program.
For Dale, being an Affirming ministry is in part about countering the pervasive view that the church is antagonistic to LGBTQ+ communities and causes. While living in the city, he worked to counter the public perception, which didn't line up with his personal experience, that churches are steeped in a homophobic culture. Having worked previously at St. John's United Church (now Avondale United) in Stratford, Ont., he had the privilege of becoming involved in a congregation for whom inclusiveness was more than rhetoric—it was a deeply lived reality. He describes how that congregation had leaped at the chance to begin the Affirming process. "So there was a rural, elderly congregation that was fully on board," he says. "I left that experience in a rural area to realize that there are some young people in a large- or medium-size city who are still stuck in what you would call a small-town mentality."
As a rural congregation, Muskoka's Bala United Church explodes the myth of the bigoted backwoods church. The congregation rallied behind the Affirming process, voting 100 percent to become officially Affirming in 2017. "It was a wonderful journey," says Rev. Sue Woods, "and it wasn't the destination so much as the journey." "The congregation," she adds, "has become a much tighter, closer community in terms of caring for others."
Its inclusive and inviting atmosphere attracted, among others, Doug Crichton, who moved to the area from the GTA after a career in education. An openly gay man, he was looking for a spiritual community that made him feel safe, welcome, and affirmed. "I was looking for a sense of inclusion and acceptance," he recalls. "I had to feel it was a welcoming place." A friend told him about Bala United, and from the moment he walked into the small, humble church he knew it was the place for him. He says the congregation had the courage to ask him open, caring, and respectful questions about his life and to raise the gender questions that are dynamic within LGBTQ+ communities. "They are brave enough to ask and explore new frontiers, new issues and figuring out how to support people," he says, adding that it was all part of a trust-building process.
That trust has been built is evident in how Crichton says he feels able to share significant moments in his life without worrying what people will think or how they will react. Recently, his 18-year-old niece in Arizona came out as female to Crichton during a Skype meeting, and as a proud uncle, he was able to celebrate with his Bala United family. "I was able to chat with Bala United friends and celebrate at council meetings and they were happy to celebrate with me: that I have a niece that is making a transition and is feeling so much more real and herself," he says. "That's where the rubber hits the road in terms of trust-building: you can speak openly about your experiences, your life, and your community and be open to good, caring questions about it."
For Lawrence Park Community Church in Toronto, that kind of honouring of the diversity of people's lives is intrinsic to the process of becoming an Affirming faith community. As the congregation heads toward a vote, it's taking joy in the process itself and its capacity to promote courageous conversations about sexual orientation and gender identity. "One thing that has struck me," says Rev. John Suk, one of two ministers at the church, "is that the whole reality of transgender people has become more real for people." Lawrence Park has had trans people speak at its Soul Table, a Sunday evening community-building event with dinner, music, and speakers, and both ministers have trans people in their extended family. "We, by networking as a congregation, realized it's more prevalent and out there and to be embraced than we realized," reflects Suk. The Affirming process, he adds, has opened a space for conversations around justice more generally, including Black Lives Matter.
Of course, making space for courageous conversations is proving challenging in the context of the pandemic. Burton Avenue United Church, also in Barrie, is a dynamic newly Affirming congregation in the heart of the old Allandale neighbourhood. Dale notes that it had "the biggest celebration of an Affirming service" he had attended as regional staff. "It felt like the whole church went, 'Finally. Now what?' There was a breath and then a now-what within it all that shone through the service." That high note at the outset has carried through into a sustained commitment to being in conversation with the LGBTQ+ community.
But for Angela Kerr, chair of the Affirming Committee, the challenges of continuing that conversation as the coronavirus limits our activities and interactions are real. "There are challenges to doing things in a community focused on relationships in a pandemic," she says. "Relationships are so difficult to maintain and nurture in an online, remote environment." All the same, the congregation is finding creative ways to forge ahead. This summer, it offered a virtual variation on its annual participation in the Barrie Pride parade: people were invited to decorate their churches or their homes and then upload a photo on social media. Members of the congregation are also taking safer spaces training with the Gilbert Centre, a local advocacy organization for LGBTQ+ people.
The language that the congregation now uses in its services, activities, and initiatives is also more intentional. "We are more mindful of how we say things," says Kerr. "It's also opened the conversation generally in the church," she adds, "but especially with children and youth." Young kids have been eager and engaged when it comes to tackling topics like the definition of the family and what love looks like.
Young people, both inside and outside the church, are clearly hungry for such conversations. As youth minister at Grace United, Dale regularly encountered younger people who were queer or questioning. "They started coming to youth group. I got calls from young people who wanted to talk to someone about their sexual orientation because they'd only ever been told that they were going to hell," he recalls. Often people who didn't live near the church, or resided outside the city, would call him, desperate to talk about spirituality and sexual orientation with someone in ministry who was openly gay.
The walkway was the culmination of these theologically rich encounters with youth and younger people. It was the youth—not the staff—who took ownership of the initiative, says Dale. While painting it, one youth asked him a pointed question: "What's going to happen to this?" When he responded that it would likely fade away, the youth said that they would repaint it if that was the case. The vibrant splash of colour will, thankfully, remain a powerful symbol of a wider commitment to holding and uplifting LGBTQ+ people—a commitment that is spreading across Shining Waters Regional Council one congregation at a time.
---