Nominations
The Nominations Committee is working on their report for the Regional Council meeting in November. Check out the Get Involved page on the Shining Waters website for information on current opportunities as well as the application form.
There will be a Town Hall gathering for Nominations on October 13, for people to get more information and ask questions about serving on the following:  Executive, Communities of Faith Commission, Pastoral Relations Commission, Intentional Interim Ministry Committee, Grants and Mission Support Committee and Nominations Committee.  We will be recruiting for the Social &Ecological Justice Commission and the Intercultural Diversity Commission at a later date. Details to follow.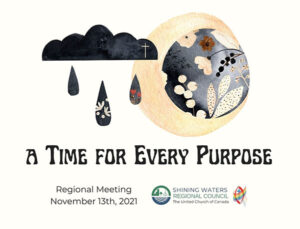 Regional Council Meeting, November 13, 2021
Preparations are underway for the Shining Waters Regional Council meeting on Saturday, November 13.  The meeting will mostly focus on proposals, budget, and nominations.  The Social and Ecological Justice Commission will lead the worship.  There will be a time of In Memoriam, and the installation of the new President.
Visit the Fall 2021 Regional meeting page to see information on the proposal process as well meeting material and resources as they become available.
Town Hall meetings:
There will be three Town Hall meetings prior to the Regional meeting in order to offer fuller discussion on proposals and the budget.  October 6 and November 3 at 7:30 p.m. are for proposals and November 10 is for budget.  All meetings will be by Zoom.  Watch for more details on the Town Halls coming soon!
Communities of Faith Commission
The Communities of Faith Commission considers a high volume of requests from congregations for approvals required under The United Church Manual (2021) and the policies of Shining Waters Regional Council. The commission tries to respond in a timely manner by considering most of these requests by email votes.
At its recent meeting, the Commission agreed that it will take a break from considering email votes at certain times of the year, specifically Christmas, Holy Week and a time in the summer.
This year, the commission will not consider any email votes from December 15, 2021 to January 4, 2022 and for Holy Week (April 8 – 19 2022).  The commission will also not consider any email votes during the last week of July and the first week of August each year.
Communities of Faith are asked to be aware of this when submitting items for approval by the Commission.
Communities of Faith support
Carters Professional Corporation Annual Church and Charity Law Seminar online, November 4, 9:00 a.m.-1:30 p.m.(EDT) $20.00. (https://www.carters.ca/index.php?page_id=119)
Carters is a Canadian law firm with a focus on charities, churches, and not-for-profit organizations. The annual seminar highlights updates on charity law and presentations on different areas of concerns of interest to M&P, treasurers, communications, councils/boards, ministry leaders. This year's presentations include terms and conditions for websites, key issues in drafting employment contracts, brand identity and protections for churches, impact investing for churches as philanthropy, and insurance issues involving volunteers for churches. Recordings and presenters' PowerPoint slides included.
Learning How to Grow Restorative Churches by FaithCARE, developed exclusively for churches and other faith communities, is being offered in two parts. Learn to facilitate listening and other proactive, relationship-building circles in the first series of sessions October 19-November 16. Part two will be offered in early 2022 on responding effectively to deep-level conflict. $375 for Part 1. $700.00 for Parts 1 and  2
CLICK HERE for the poster.  To register: https://shalemnetwork.org/events/learning-how-to-grow-restorative-churches-2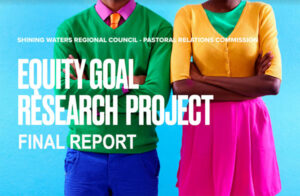 Pastoral Relations Commission
The Equity Report (https://shiningwatersregionalcouncil.ca/wp-content/uploads/2021/06/Equity-Goal-Research-Project-Final-Report.pdf ) is the result of a six month research project in which the commission examined issues of bias, discrimination and racism in the pastoral relations process. The findings impact on everything from search committees in Communities of Faith, to how ChurchHub is utilized, to salary negotiations.
The commission will review all the recommendations over the fall period, prioritize them, and develop an action plan to act on the findings of the rep
Youth and Young Adults
Confirmation Classes Online
The GO Project is preparing a virtual confirmation program for 2021-2022 church season. If you are looking for confirmation programming, Shining Waters and Canadian Shield Regional Councils are welcome to participate in this program at no cost to the community of faith. For more information please contact Jeffrey Dale, Minister of Justice and Faith Formation for more information. (jdale@united-church.ca).
Social and Ecological Justice Commission
Save the Date! ENGAGE! Love and Justice – November 3 – 7
The United Church of Canada's Church in Mission Unit is planning an online gathering to lift up opportunities for United Church people and communities to ENGAGE! in the many and diverse ministries of love and justice of the church. It's essential that the event foreground the life, work, witness and discipleship of United Church of Canada global partners.
The ENGAGE! Love and Justice gathering will move through 5 daily themes, with worship, keynote speakers, workshops, and interactive booths. The event will use the Whova online event platform accessible by desktop, laptop, or mobile device.
To Register: https://www.canadahelps.org/en/charities/the-united-church-of-canada/events/engage-love-and-justice-ministries-of-the-united-church-of-canada/
Shining Waters website
The regional council's website is very extensive and can be a first stop for a wide range of information.   There are sections on right relations, intercultural, and justice. Information on the Covid-19 pandemic as it affects communities of faith is kept up to date. You can find out about the various Commissions and the Executive of the region as well as their policies and Minutes.  All the information about the upcoming Regional Council meeting in November is accessible from a link on the home page, including proposals and Town Hall meetings.
The Community Events newsletter that goes out at the first of every month is generated from our website.  Communities of Faith can enter their event information through the Events tab at the top of the home page.
Shining Waters Staff
We continue sharing the short quotes from our staff; this month some of the program staff.  See our staff directory here.
Shining Waters Staff pictures