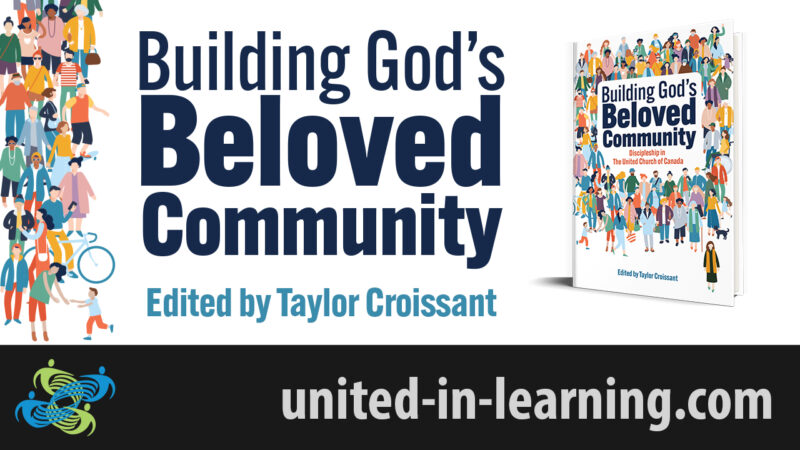 The United Church Publishing House is releasing a new book, with an online launch with United in Learning. Join Stephen Fetter and editor Taylor Croissant as they discuss the book. Participants will receive a time-limited discount coupon. Be sure to join us "live" so you can make use of this!
Some book background: As disciples of Jesus, we are called to grow in our faith and to serve the church. In The United Church of Canada, we prepare for the lifetime commitment of discipleship by becoming full members of the church. Building God's Beloved Community is an accessible and engaging primer designed to accompany you during this period of preparation—whether you're embarking on adult baptism, considering confirmation, or seeking to enrich your faith through deeper study.
Drawing on the expertise of United Church theologians and ministers from across the country, Building God's Beloved Community outlines the church's approach to some of the big questions about God, the Bible, and theology, narrates the life of Jesus as both a historical figure and the messiah, and provides an overview of the history of Christianity and the United Church. This book also offers insight into United Church worship, tradition, doctrine, and governance, while introducing readers to its legacy of social justice as a lived expression of faith.
If you're considering being discipled into the wider body of Christ in the context of The United Church of Canada, this book will offer an ideal accompaniment to your period of intentional preparation. Together with prayer and worship, it will draw you closer to God as it invites you into beloved community and encourages you to move out into the world to love and serve.
Contributors to the book:
Susanne Abbuhl
Phyllis D. Airhart
Sandra Beardsall
Jordan Cantwell
Susalm Chisholm
Taylor Croissant
Rob Fennell
Adriean Jacobs
William S Kervin
YunJung Kim
Andrew Kinoti Lairenge
Andrew O'Neill
Bill Richards
Don Schweitzer
John H. Young