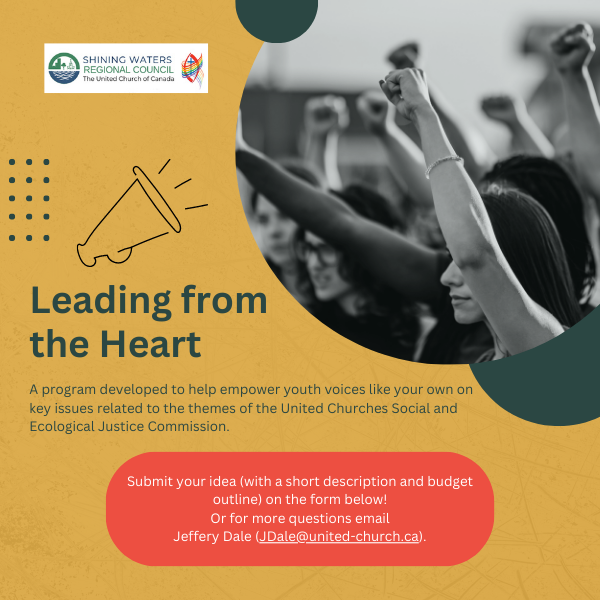 Are you a youth (under 30) who is concerned about environmental and social crisis facing humanity, and wish you could do something about it but need a bit of support?  Have you ever wondered how faith can help us fight for a better world? The Social and Ecological Justice Commission would like to collaborate with you!
Leading from the Heart is a program developed to help empower youth voices like your own on key issues related to the themes of the United Churches Social and Ecological Justice Commission, including but not limited to:
Ecological Justice (Including Climate Change)
Anti-Racism
Homelessness and Poverty
Israel/Palestine
Right Relations
LGBTQ2S+ Advocacy and Inclusion
Whatever event you can imagine, as long as it connects to these themes, is welcome.  When you apply to the program, you will be matched to a United Church mentor who will help you access space for your event, logistical support, and $500 towards whatever resources you need to realize your vision. (This may include, but are not limited to, supplies, food, guest speakers, honorarium, and advertising).
Submit your idea (with a short description and budget outline) on the form below. Or for more questions email Jeffery Dale (JDale@united-church.ca).
We are excited to hear from you!
Leading from the Heart Form