The Beatles and Their World: A Six-Part Lecture Series with Dr. Mike Daley
October 17, 2022 @ 10:00 am

-

12:00 pm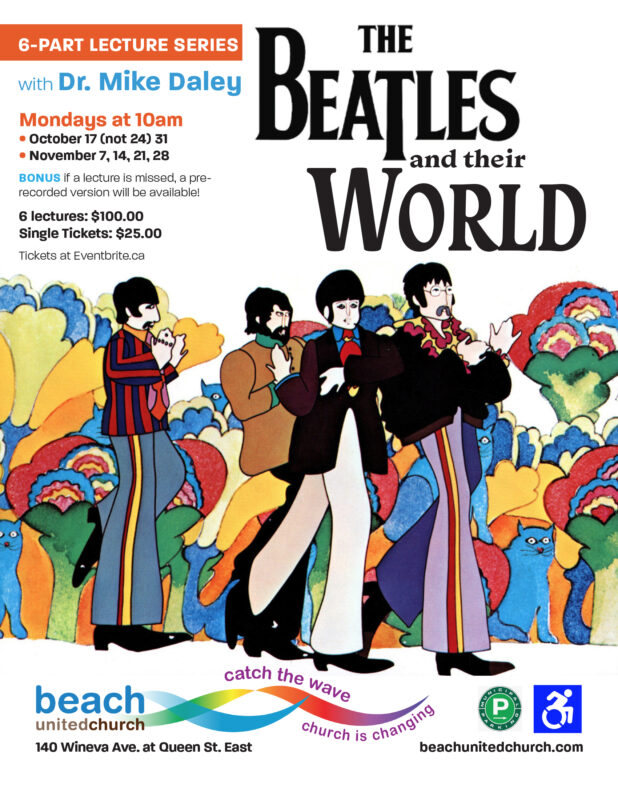 Beach United Church presents Dr. Mike Daley, musicologist and storyteller, with a fascinating lecture series exploring the iconic Beatles.
This course will track the musical development of the Beatles, starting from the earliest days in Liverpool, moving through the excitement of Beatlemania, the rush of psychedelia, and the maturity of their studio years. While the focus will be on the music, we will also consider how recording techniques, the music business, the music of other artists, and the larger culture of the 1960s affected John, Paul, George, and Ringo as they created their classic works. Bonus, if a live lecture is missed, a pre-recorded version is available.
Lecture Outline
1. MONDAY OCT.17 10AM – 12 The Quarry Men
We'll examine the early lives of the members of the Beatles against the larger backdrop of postwar Liverpool. Their formative cultural influences, from Elvis and Lonnie Donegan to the Goon Show, will also be covered. From the formation of John Lennon's teenage band The Quarry Men through early club dates in Liverpool, we'll look at the roots of the Beatles.
2. MONDAY OCT.31 10AM – 12 The Early Beatles
The embryonic Beatles honed their craft at tough Liverpool suburban dances, in Hamburg, Germany, and at the Cavern Club. When Brian Epstein signed on as their manager in early 1962, the wheels were set in motion for their signing with EMI Records and their first hit singles.
3. MONDAY NOV. 7 10 AM – 12 Beatlemania through 1964
The Beatles conquered England in 1963 and the rest of much of the world in 1964. In this class we'll track the halcyon days of Beatlemania, including their first appearance on the Ed Sullivan show and first film, A Hard Day's Night.
4. MONDAY NOV.14 10AM-12 Transitional years – 1965-66
In 1965-66 the Beatles rewrote the rules of rock and roll music, particularly in the recording studio. We'll discuss their rapid artistic evolution in this period, leading up to the end of their touring days and the release of their world-beating album Revolver.
5. MONDAY NOV.21 10AM-12 Peak of creativity – 1967-68
With their innovative 1967 recordings including "Strawberry Fields Forever," the Beatles sealed their position at the top of pop music. The sudden death of their manager, Brian Epstein, in August 1967 threw the band into organizational turmoil. 1968 saw them creating a sprawling double album and starting their own company, Apple.
6. MONDAY NOV.28 10 AM-12 The Breakup – 1969-70
The ill-fated Get Back film project was an attempt to return to form, but inter-band relations were in decline, aided by drug abuse and simmering personal resentments. The final breakup was acrimonious and played out over years in the courts. Meanwhile the individual Beatles began their solo careers. We'll discuss these later years and the Beatles' legacy today.
Related Events