Act to End Racism multilingual series
: 
What to do if you are
 a target
 of racism
 or 
if you are a 
bystander
 seeing a racist act
Voices United
VU 34 Come Now, O God of Peace/O-so-so  GoonYong Lee/Marion Pope 
VU52 Sheep Fast Asleep/Hitsuji Wa Nemure Ri. Chugoro Torii/arr. David Kai/Genzo Miwa/trans. John Moss 
VU94 Lovely Star in the Sky/Tong bang ui byol. Un-yung La/trans. Marion Kim/James Minchin 
VU85 Midnight Stars Make Bright the Sky/Ming xing can lan-ge. Chi-fang Liang/Ching-chiu Yang/Christopher Cheung 
VU243 Praise to God. (traditional Japanese melody) Nobuaki Hanaoka/arr. David Kai 
VU251 God Created Heaven and Earth. Pi-po/I-to-Loh/Taiwanese hymn Boris Anderson/Clare Anderson 
VU252 Jaya Ho/Victory Hymn. (traditional Hindi melody) Hindi anon. Trans. Katherine Rohrbough/I-to-Loh 
VU309 Para, Para, Pitter Pat. Anon/Masao Tomioka/Ugo Nakada/June Nakada Sumida 
VU362 Here, O God, Your Servants Gather/Se-ka-i-no To-mo to Te o Tsu-na-gi. Isao Koizumi/Tokuo Yamaguchi/para. Everett M. Stowe/I-to-Loh 
VU402 We Are One. Jeeva Sam/arr. David Kai/Doreen Lankshear-Smith 
VU414 God, Be Praised in Early Morning/Qing-chen zao qi zan-mei Shen. Dawei Wang/Pen-li Cheng/G.A. Wenh-In Ng 
VU611 Out of the Depths, O God, We Call to You. Jeeva Sam/arr. David Kai/Ruth Duck 
VU666 In Lonely Mountain Ways/Ya-ma-ji Ko-e-te. Amzi Chapin/Sugawo Nishimura/trans. Paul Gregory 
VU698 With the Wings of Our Mind/Ttugoun Maum. Don-Whan Cho/Ik Whan (Timothy) Moon/trans. Marion Pope 
VU963 May the Grace of Christ. Jeeva Sam/Fred Graham. 
Ps. 66 East Indian hymn/Jeeva Sam 
For more information contact: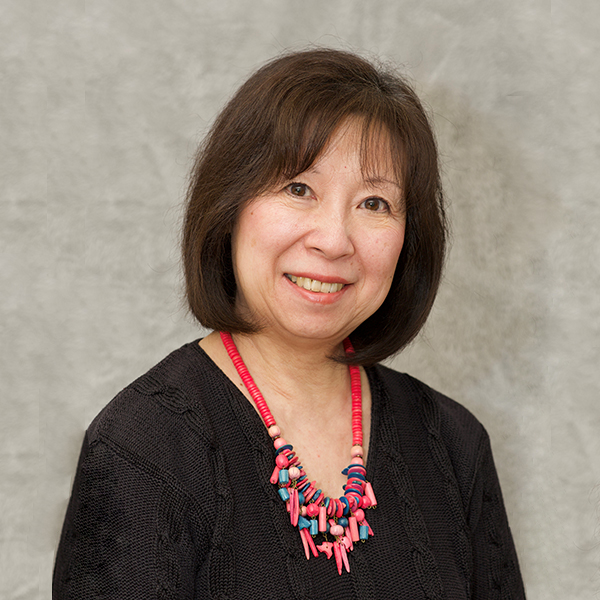 KIM UYEDE-KAI
Communities of Faith Support, Anti-racism and Right Relations Minister
Phone: 416-231-7680  |  1-800-268-3781
Extension: 6173
Email: KUyedeKai@united-church.ca
Serves in: Shining Waters Regional Council
Location: Teleworks and works in the Toronto Office
Role: Kim encourages and connects communities of faith in their work and supports indigenous ministries in their relationship with the region and promotes and supports racial justice.
Contact Kim about: Anti-Racism; Conflict Resolution; Covenants; Governance; Intercultural Ministry; Right Relations; Vision and Mission
More Voices
MV5 Holy Spirit, You're like the Wind/Sheng ling ru feng. Wei-fan Wang/Grace Shangjuan/Ivy Balchin/W.H.Wong 
MV22 God of All the World/Mi pela I bung. Trad. Papua New Guinea/Fred Kaan 
MV56 Come, O Come, Let Us Praise/Lajahle, htaora Hp'ya. Saw Gidean Tun Shwe (Myanmar) 
MV105 You Are My Father/Too'n mera pita. Harkanwal Singh Sahota/Amarjeet Singh/trad. Sikh 
MV125 When A Grain of Wheat (Hitotsubu no). Ushio Takahashi/Toyohiko Kagawa/ rans Frank Y. Ohtomo. 
MV181 Lord, Your Hands Have Formed/Imegmoy pitak ay yay. Ikalahan melody/Ramon and Sario Oliano 
MV184 Ay, Ay Salidummay. Trad. song Philppines 
MV218 May the Love of the Lord/Wei yuan Shen di ai. Swee Hong Lim/Maria Ling Poh Choo. 
MV225 Amen. Trad. melody, China. Arr. Puqi Jiang.