WATCH LIVE: The Entrepreneurial Church – Missional Revenue Strategies When Tithes and Offerings Are No Longer Enough
September 21, 2020 @ 4:00 pm

-

5:00 pm

Free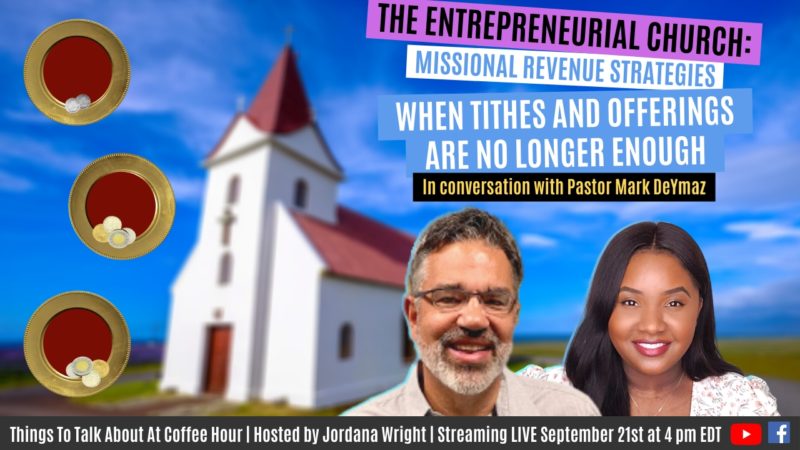 We talk with the author of 'The Coming Revolution In Church Economics' to learn more about innovative approaches to reaching financial sustainability in an era of elevated pressures due to COVID-related closures and increasingly shrinking church budgets.
During this free Facebook LIVE event we'll explore which economic tools can be adapted to our United Church context, and ask the author our questions.
_____ more details _____
"Tithes and offerings alone are no longer enough to provide for the needs of the local church, enable pastors to pursue opportunities, or sustain long-term ministry impact. Growing financial burdens on the middle class, marginal increases in contributions to religious organizations, shifting generational attitudes toward giving, and changing demographics are having a negative impact on church budgets. Given that someday local churches may be required to pay taxes on the property they own, and/or lose the benefit of soliciting tax-deductible gifts, the time to pivot is now."
On this episode of the LIVE learning series for members of the United Church of Canada community, we chat with Pastor Mark DeYmaz about how he's embraced disruptive innovation in church economics to navigate the shifting financial landscape modern faith communities are facing.
ABOUT THE GUEST:
Mark DeYmaz is the founding pastor of the Mosaic Church, a multi-ethnic and economically diverse church in Central Arkansas. By resurrecting an abandoned discount department store, and transforming it into a vibrant community of purpose-driven ventures it now calls home, Mosaic Church has leveraged their assets to catalyze positive change in their neighbourhood, empower social entrepreneurs, and create multiple streams of income to effectively fund mission.
ABOUT THE HOST:
Jordana Wright leads a placemaking and community development practice focused on introducing new audiences to their local United Churches, while helping congregations reach their sustainability goals and expand their social impact.
Related Events