Ride for Refuge 2020 – a fundraiser for AURA – Anglican United Refugee Alliance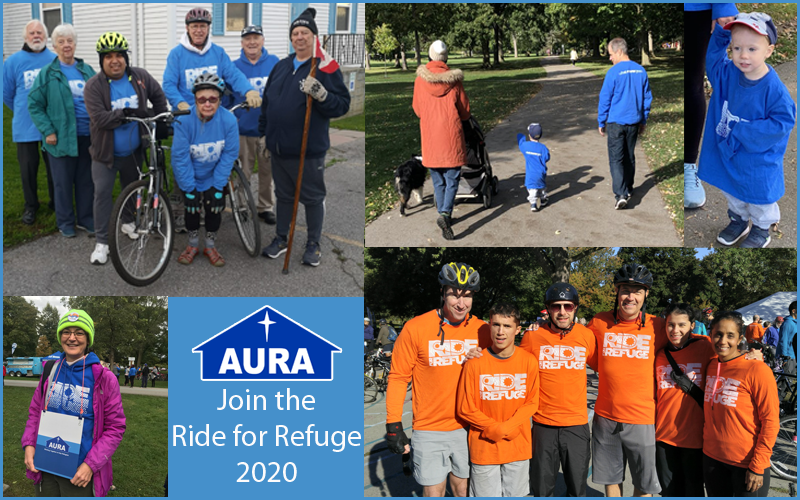 The Ride for Refuge is a family-friendly fundraiser being held all across Canada on Saturday, October 3, 2020, in support of charitable organizations who provide refuge and hope for some of the most vulnerable people on earth.
AURA – Anglican United Refugee Alliance – is participating in our 4th Annual Ride for Refuge this year.
Supporting Sponsorship by supporting AURA is easy and fun in this event. You can pick an activity – traditionally it has been a bike ride or a walk – but this year the options have expanded to include baking, art making, fitness challenges, dance-a-thons, online watch party, shave your head… really you can do just about anything you can dream up if you think it will encourage others to contribute to the cause of supporting Refugee sponsorship and AURA! Have fun with it!
For the last three decades, AURA has been working with volunteers at United Churches and Anglican Parishes, training sponsorship volunteers, facilitating private sponsorship of refugees, and assisting sponsorship groups and sponsored refugees during the post-arrival settlement period.
The RIDE has become a vital part of keeping AURA's important sponsorship work going, and you can help! We hope you'll register for the event and choose to support AURA. Even better, if your congregation would like to get involved, start a team and work together to support sponsorship and AURA!
Start here: https://rideforrefuge.org/register
Or
If you don't want to start your own team, our Incoming Board Chair, Nadia Heyd, invites you to join hers. Visit https://secure.e2rm.com/registrant/TeamFundraisingPage.aspx?teamID=906519 Look for the button that says "join the team."
*Note: during the registration process you will be asked to specify a location. If you are joining Nadia's team, please select Toronto Downtown. If you are forming your own team, please choose the location that is closest to you. Of course, this year, no matter what you select, everyone will participate from their own front doorstep or a location of your choosing that allows you to keep your distance from others.
Related Events