Garden for Refuge! A fundraiser for AURA
April 28, 2021 @ 8:00 am

-

June 5, 2021 @ 5:00 pm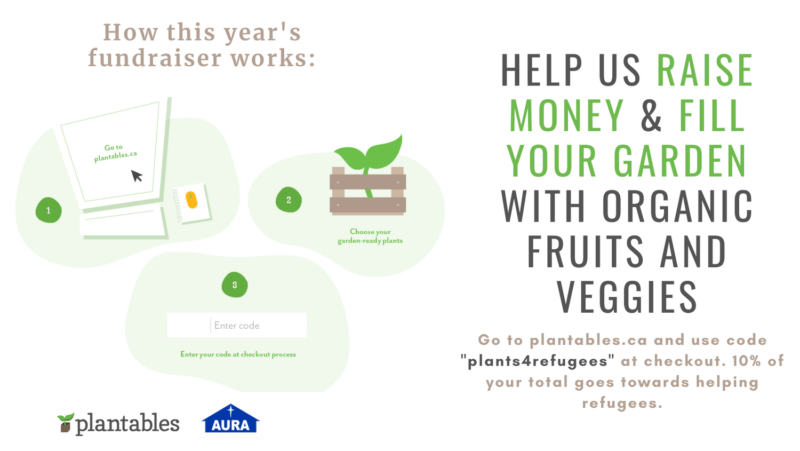 Hello Self-isolated gardeners: With the pandemic impacting our lives daily, many of us can begin to appreciate the feeling of uncertainty that most refugees face every day. If you are looking for ways to be happy, healthy and become more self-reliant, and support refugees at the same time, you can by ordering garden-ready plants from our spring sale, Garden for Refuge!
Seedlings from our plant sale cost $4 each and will be shipped to your home directly on the date of your choosing (delivering to addresses in ON and QC only in 2021).
You can also give them as a gift for family, friends, or newcomers you care about. A portion of your purchase supports AURA (Anglican United Refugee Alliance) a Canadian charitable organization assisting in the sponsorship and resettlement of refugees. Our mission is to provide support and expertise to constituent groups involved in refugee sponsorship and resettlement.
All the information is available at:
http://www.auraforrefugees.org/index.php/get-involved/become-a-financial-donor/plantables
If you are ready to order, the process is simple!
1. Visit www.plantables.ca
2. Choose your garden-ready plants (Free delivery when you order 12+ plants)
3. Type "plants4refugees" in the Coupon Code box at the checkout screen
4. Choose a delivery date
You get beautiful, garden-ready, organic plants delivered to your home in 100% recyclable packaging, and 10% of your purchase supports AURA's work serving refugees.
Thank you!
Please contact AURA's staff if you have any questions
info@auraforrefugees.org or 416-588-1612
Related Events