Friday Speaker Series – April 16, Manor Road United Church
April 16, 2021 @ 2:00 pm

-

3:00 pm

Free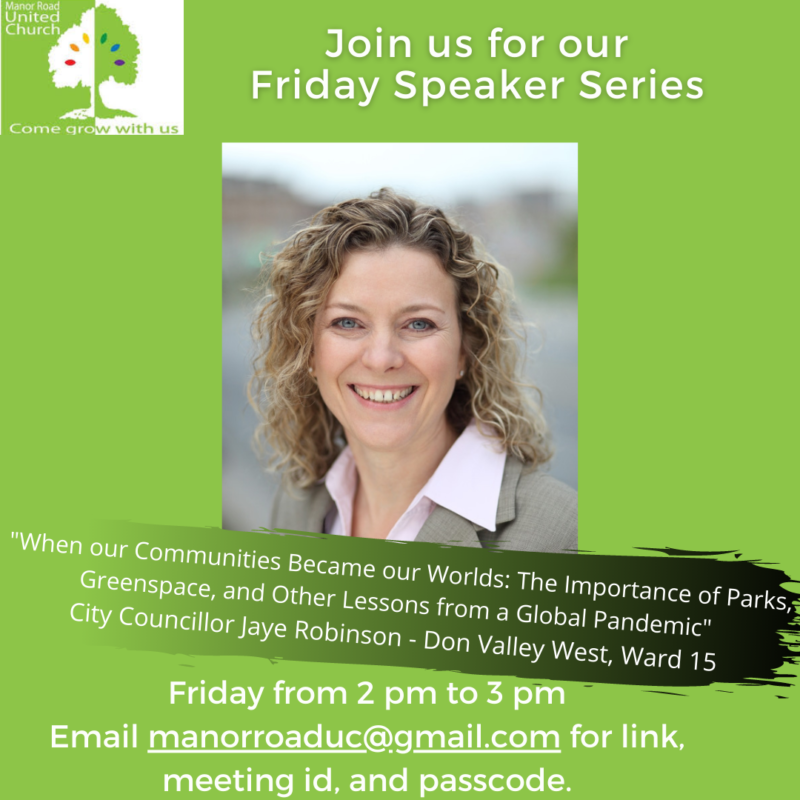 This week on the Friday Speaker Series, we are joined by City Councillor Jaye Robinson for Don Valley West, Ward 15 and Chair of the Toronto Transit Commission on the topic "When our Communities Became our Worlds: The Importance of Parks, Greenspace, and Other Lessons from a Global Pandemic."
The COVID-19 pandemic has underscored the importance of parks, green spaces, grocery stores, and other amenities within our communities. These are not luxuries but necessities for urban life, especially as Torontonians are spending more time within their local neighbourhoods. As the City Councillor for Ward 15, Jaye Robinson has been a strong advocate for a comprehensive approach to neighbourhood-based planning in Yonge-Eglinton, pushing to ensure that our infrastructure matches the needs of the growing population. Jaye has also been working to keep our City moving throughout the pandemic in her capacity as Chair of the Toronto Transit Commission (TTC). Transit will remain integral to Toronto's recovery from the pandemic and continued success as the economic engine of Ontario. As we chart a course for our City's post-pandemic future, we must remember the lessons we've learned along the way.
The Friday Speaker Series runs from 1PM to 3PM via Zoom and is hosted by Rev.Dr. John Joseph Mastandrea. The program aims to help seniors and neighbours in the community cope with isolation brought on by COVID-19 restrictions.
The program is free and open to everyone! For the Zoom link, please email manorroaduc@gmail.com. If you know of seniors who may be interested but need some support, drop us a line and we can help them learn how to use Zoom along with their devices.
Related Events